Korean Red Ginseng Extract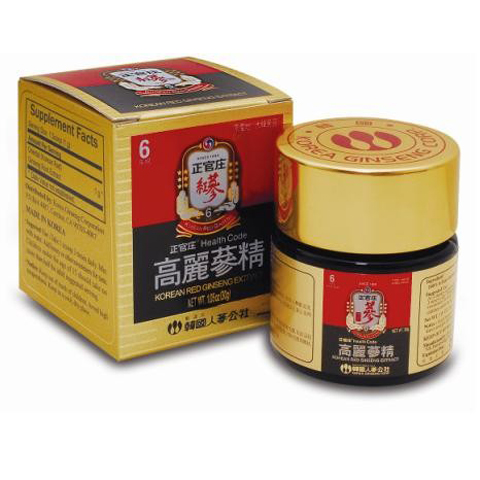 click to enlarge
Korean Red Ginseng Extract
Cheong-Kwan-Jang
30 gram Liquid Extract
---
Korean Red Ginseng Extract - 30g

A small jar of our best selling item, Korean Red Ginseng Extract is the most concentrated and pure form of 100% six-year-old premium Korean Red Ginseng roots available on the market; KRG Extracts retain the rich flavor of ginseng and their active components at an optimal level, such that even a small dose is enough to reap all of the health benefits of red ginseng.
Ginseng is traditionally served like a tea. For the perfect serving of ginseng, mix 1 g into 8 oz of warm or iced water, adding honey as desired. Stir, serve and enjoy!
Cheong-Kwan-Jang: Synonymous with Trust
Cheong-Kwan-Jang Ginseng is a a government-assured, reliable product, packaged in a government-sanctioned factory." It is the world's representative brand of Korean ginseng and boasts over one hundred years of national tradition. The Cheong-Kwan-Jang emblem itself was designed using the national motif of Korea's historical Taeguk mark with modern characters representing red ginseng and six stars symbolizing the six-years of cultivation dedicated to each ginseng root, our commitment to only the best quality products. The red background symbolizes the passion put into every effort to produce the world's best Koraen red ginseng. Cheong-Kwan-Jang products are now exported to over 40 countries all over the world and our brand is recognized as a trusted, high-quality brand valued locally and abroad.
Many ginseng fans declare a miraculous efficacy of Korean red ginseng when compared to less herbs and consume it regularly as a marvelous supplement for healthy living. So well-regarded is this "King of Herbs" that, in November 1995, when the Chinese head of state, Jiang Zemin, visited Korea, a gift of Heaven's Grade (the highest grade of) Korean red ginseng was presented to him as an honor. As a first among all Korean health foods, Cheong-Kwan-Jang brand ginseng has been sold through Harrods Department Store of UK, amongst other prestigious department stores throughout the world. More than 50 Cheong-Kwan-Jang brand stores have been established in 8 countries such as the U.S., Japan, Hong Kong, Taiwan, Vietnam, Australia and others. In 2009, by achieving Saudi GMP (Good Manufacturing Practices), Cheong-Kwan-Jang is even gaining a foothold in the Middle East. In fact, in North America, we have over 30 brand stores, which sell our products, exclusively (as of the writing of this article). KGC guarantees the safety of all Cheong-Kwan-Jang products by carrying out ginseng sample analysis, soil analysis and cultivation method education throughout the cultivation period. Our production is done within state-of-the-art facilities, the world's largest ginseng factory, and we guarantee that the quality of our product materials cannot be imitated by any competitor. Trusted for over 113 years, today, CKJ branded products can be found in over 1,000 stores worldwide.