Balsam Pear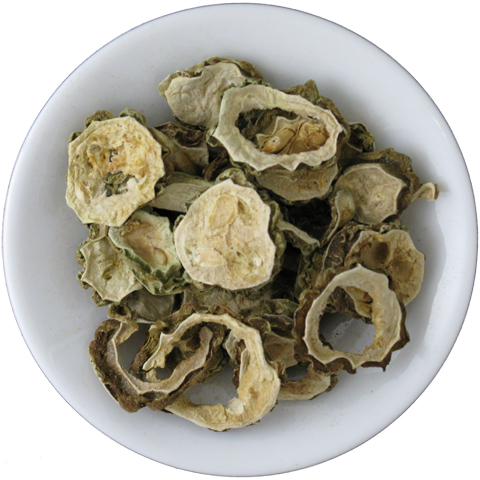 click to enlarge
Balsam Pear
Shou-Lao Tea & Herb
---
Balsam Pear (Gohyah)

Balsam Pear, also known as Bitter Mellon or Bitter Gourd, is a medicinal herb and vegetable/fruit that is traditionally used as a home remedy for various illnesses. For diabetics, it has been demonstrated to have blood glucose lowering qualities according to studies published. Balsam Pear is also the natural remedy for diabetes that is most widely used in the Philippines, where the government promotes it solely for the disease. It is cooling, reduces phlegm and cough, relieves psoriasis symptoms, reduces cholesterol, is considered good for liver function, and has a mild diuretic quality. JNB Vol.22

Lowers Level Of Harmful Blood Fats
The bitter melon fruit has been shown to be effective in lowering triglyceride and low-density lipoprotein levels and significantly increasing high-density lipoprotein levels, according to research conducted by the Department of Biological Sciences at the University of Botswana.
Antioxidant Benefit
Bitter melon tea contains flavonoids, vitamins and antioxidants that protect the body from disease-causing free radical damage that destroys healthy cellular production. According to the Human Nutrition Research Center on Aging at Tufts University, phytochemicals, carotenoids and flavonoids reduce oxidative stress within the body.
Decreases Cancer Cells

According to studies conducted by researcher Ratna B. Ray, Ph.D., professor in the Department of Pathology at Saint Louis University, bitter melon extract may inhibit cancer cell growth in breast cancer patients. In an article in the journal Cancer Research Dr. Ray says, "Our findings suggest that bitter melon extract modulates several signal transduction pathways, which induces breast cancer cell death."
References
Bitter Melon: Health Benefits
Bitter Melon Extract: Cancer Research
Antioxidants
Origin: Jiangsu, China
Harvest Period: 2012
Brewing Guide: To get the most out of your tea, as a general rule it's always recommended to use glass-based or porcelain tea ware. First rinse the tea cup and teapot with hot water. Then use 2 pieces for every 150ml (5 fl oz.) of water. Steep your Balsam Pear Tea in hot water at 185°F to 195°F for 3 to 5 minutes. Gradually increase steeping time and temperature for subsequent brewings.
Fresh Balsam Pear Being Prepared For Cooking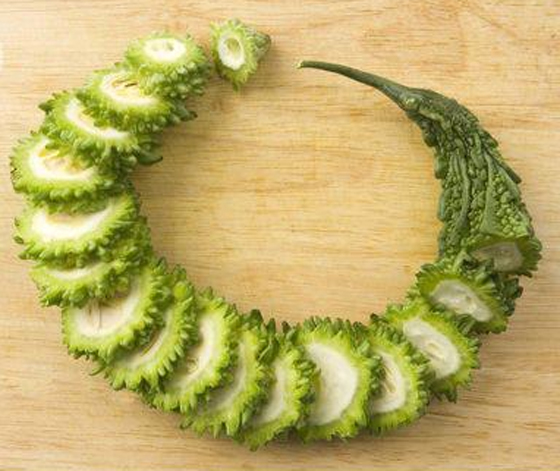 References
Bitter Melon: Health Benefits
Bitter Melon Extract: Cancer Research
Antioxidants