Four Kings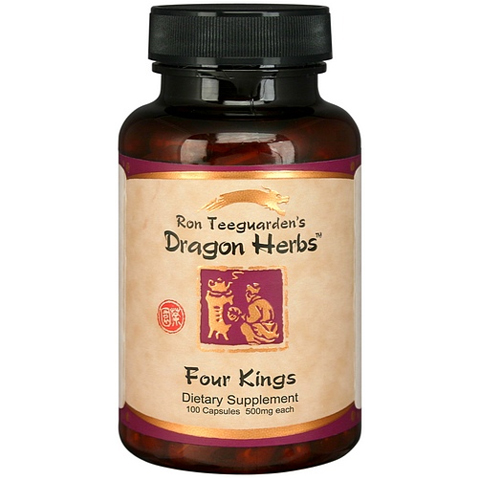 click to enlarge
Four Kings
Dragon Herbs
100 capsules 500 mg each
---
Four Kings

The Herbs in Four Kings
Agaricus Mushroom
Agaricus mushroom is not a traditional Asian herb. It is a Brazilian rainforest herb that has won huge acceptance in Asia and is now commonly incorporated into Chinese tonic herbal formulations in China and Japan. It is among the premier immune system tonics of all known natural substances. It is the richest source in the world of a type of polysaccharide known as beta-glucans, which has been solidly established to be among nature's most potent immune potentiating substances. Agaricus has double-direction activity on the immune system. In other words, it may be used to bolster a deficient immune system, as occurs in cases involving infections, or Agaricus may be used to moderate an excessive system, as occurs in cases of autoimmune disease and allergies. Agaricus may be used by anyone. In Japan, Agaricus is considered a "cure-all" herb.
Cordyceps Mushroom
Cordyceps is one of the absolute superstars of the Chinese tonic herbal system. It is an extremely effective and powerful life-enhancing agent, ranking right up there with Ginseng, Reishi and Deer Antler. Because it is rare, potent and highly treasured, like Deer Antler, it is very expensive. This rare and precious herb is considered to be a moderately Yang primal essence (Jing) tonic of the highest stature. It is a mushroom that consumes the body of a particular kind of caterpillar in mountainous regions of China, Mongolia and Tibet. It has enormous renown as a supersonic, and is said to build sexual and physical power, mental energy, the immune system and is universally believed in the Orient to prolong life.

Cordyceps is used to strengthen the body and mind at a fundamental level. It is said to be able to increase the "primary motive force for life activities." Because it contains both Yin and Yang it can be used by anyone safely and over a long period of time. It replenishes Yin Jing, restoring the deep energy expended as a result of excessive exertion, adapting to stress or from aging. Cordyceps is thus one of the primary herbal substances used in tonic herbalism as an anti-aging agent and for the purposes of rejuvenation.

Cordyceps is very widely used for the purposes of strengthening the primal Kidney functions, which include sexual functions, brain power, structural integrity and healing ability. It is a very powerful Yang tonic. As a sexual tonic, Cordyceps is considered to be one of the best. It is not as quick acting as the best of the Yang tonics like Deer Antler, Epimedium and Sea Dragon, but it has a profound long range strengthening capacity. It is commonly used for impotence, sexual malaise, frigidity and infertility.

Consistent use of Cordyceps helps to strengthen the skeletal structure, and specifically benefits the lower back region, the knees and ankles. It is used for backache due to injury, fatigue, stress or simple aging.

Cordyceps is also a major Lung tonic. It can be used to strengthen respiratory power in those who require extra energy in order to perform physical work (e.g. labor, sports or exercise) or it can be used by those who suffer from deficiency of Lung power. It is especially beneficial to those who suffer chronic Lung weakness with cough, wheezing or shortness of breath.

Cordyceps is considered in Asia to be a powerful athlete's tonic. It has no steroidal constituents, but improves performance and muscle building capability.

Cordyceps is highly regarded in China as a tonic for those who are recovering from an illness or an operation, or after giving birth. In these cases, the Cordyceps helps the patient recover their physical power, to improve their appetite, and to protect the body from infection.

Many studies now indicate that Cordyceps can help the body resist a wide range of pathogenic bacteria, fungi and viruses. Cordyceps is used in Asia to help treat fungus and yeast infections, and intensive research is being conducted at dozens of institutions in China and Japan relating to the potential of Cordyceps to treat certain varieties of cancer.
Maitake Mushroom
Maitake mushroom has gained a place in tonic herbalism due to its broad spectrum tonic benefits similar to Agaricus and Reishi. Like Agaricus, it is primarily beneficial to the immune system, having double-direction activity on the entire immune system.
Reishi Mushroom
Reishi mushroom (Ganoderma lucidum) is the most revered herbal substance in Asia, ranking as the elite substance for the attainment of radiant health, longevity and spiritual attainment. It ranks in Asia with Ginseng, Deer Antler, Rhodiola, and Cordyceps as a pre-eminent tool in the attainment of radiant health. It has maintained that position for at least 3000 years, and its reputation and value are only increasing. Numerous legends provide a rich and extensive record of Reishi in Asian society.

Reishi has traditionally been used as an anti-aging herb, and has been used for many diseases and disorders as well. It has long been a favorite tonic food supplement by the Chinese Royal family and virtually any one who could obtain it. Reishi was particularly revered by the followers of the Taoist tradition as the "Elixir of Immortality." Taoists have continuously claimed that Reishi promotes calmness, centeredness, balance, inner awareness and inner strength. They have used it to improve meditative practices and to protect the body, mind and spirit so that the adept could attain both a long and healthy life and "spiritual immortality" (enlightenment). Due to its rarity in the past, the common people could rarely obtain a Reishi mushroom, and it was popularly revered as a greater treasure than any jewel.

Traditionally, Reishi is said to be a nourishing tonic, tonic to the three treasures (Jing, Qi and Shen). It is considered to be capable of building body resistance, and to be powerfully detoxifying to the cells and tissues of the body. Reishi is slightly sedative on an immediate basis but builds energy over time. Reishi is universally believed is Asia to prolong life and enhance intelligence and wisdom.

Since Reishi has been known to have many functions, it has been the subject of a great deal of research in recent years. It is absolutely safe, being non-toxic.

Reishi is a profound immune potentiator. It has been found to significantly improve the functioning of the immune system whether the immune system is deficient or excessive. In this sense, it is an immune "modulator" – that is, it helps to modulate, or regulate, and fine-tune the immune system. Our immune system is a virtually miraculous network of activities designed over millions of years to protect us from viruses, bacteria, parasites, molds, dust, pollen and malignant cells. It is the responsibility of the immune system to detect the intrusion, or invasion, of these entities and to mount a defense in order to eliminate them. A healthy immune system is capable of resisting most such intruders and a very hardy system may be able to resist invasions that many other people's systems cannot. If the immune system is weakened or malfunctioning, the invading microbes can easily establish a foothold in our body and disease sets in.

Antibiotics can often be used to stop the invasion at this time, but chronic use of antibiotics further weakens the immune response. Furthermore, antibiotics are useless against viruses, pollens and most parasites. They are certainly useless against malignant (cancerous) cells generated in our own bodies. It is much better to resist the invasion from within with a fully fortified immune system and not become ill in the first place. This is where herbs like Reishi our now attracting the attention of scientists and consumers alike.

Many chemical constituents play a role in Reishi's immune modulating capacity. The polysaccharide components in particular seems to play an important role in attacking cancerous cells, but not healthy ones, while simultaneously strengthening the body's overall immune functions. The polysaccharides appear to help the body attack microbial invaders such as viruses, bacteria and yeast.

But Reishi does not just "stimulate" the immune system. It regulates it. And that is what makes Reishi so precious. If the immune system is excessive, as is the case with autoimmune diseases and allergies, Reishi can have significant positive influence. A group of chemicals known as the ganoderic acids help fight auto-immune diseases such as allergies. Ganoderic acids inhibit histamine release, improve oxygen utilization and improve liver functions. Ganoderic acids are also potent antioxidant free-radical scavengers.
Traditional Function: Fortifies the protective functions. Tonifies Jing, Qi and Shen.
Who Can Use It? Anyone, especially those who wish to fortify their immune systems.
Concentration: 8:1
Specifications: 100 capusles, 500 mg each
Ingredients: Agaricus fruiting body, Duanwood Reishi fruiting body, Cordyceps mycelium, Maitake fruiting body.
Other Ingredients: Vegetarian capsules (Pullulan caps 100% natural, water-soluble polysaccharide produced through a fermentation process; vegetable origin; non-GMO; no starch, preservative or chemical modifications; gluten free.), rice powder.
Usage: Take 3 capsules, 2 times per day or as directed by a healthcare professional.
Remember Ron Teeguarden's "First Rule of Tonic Herbalism," summed up in a single word – Compliance. If you don't take the herbs, they won't work."