Infla-Profen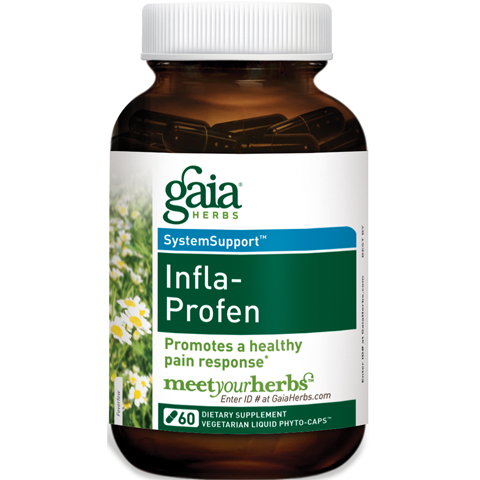 click to enlarge
Infla-Profen
Gaia Herbs
60 Liquid Phyto-Caps
---

Infla-Profen
The body's normal response to physical stress is to activate a quick inflammatory cascade that protects and repairs the stressed area. Research has demonstrated the importance of maintaining this response at a healthy level. Infla-Profen helps modulate the body's inflammatory response to ease occasional aches and pains, thus promoting musculoskeletal health.
About "System Support"
Addressing a root cause of less-than-optimal systemic balance can help enhance your vitality.* Gaia Herbs' System Support products help naturally maintain your body's harmony and balance.*
Featured Herbs: Burdock, Devils Claw, Feverfew, Ginger, Jamaican Dogwood, Nettle, Tumeric.
Suggested Use:
Take 2 capsules 2-3 times daily between meals.
Note: Not to be used during pregnancy or lactation. If you have a medical condition or take pharmaceutical drugs please consult with your doctor before using this product. Keep away from children. Use only as directed on label. Safety sealed for your protection. Keep bottle capped at all times and store in a cool dry place. Natural separation may occur. This does not affect product quality.