Male Silk Moth Drops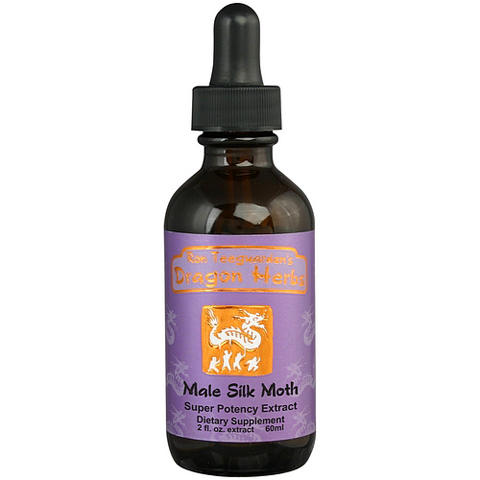 click to enlarge
Male Silk Moth Drops
Dragon Herbs
2 fl.oz. extract 60 mL
---
Male Silk Moth Drops
Invigorating The Kidney, And Benifiting The Yang

Male silk moth has a long history in China of being used as a sex tonic for both men and women. It is most often used by men.

Male silk moth is separated and extracted through advanced technology and contains various kinds of biological components such as unsaturated fatty acid and vitamins, etc.

Rich in protein, cephalin and male hormones, male silk moth is conducive to the normal growth of the body, and the formation and evolution of the male reproductive organs. It is used to nourish the Kidney, accelerate the growth of sperm and marrow and stimulate the nervous system. Male silk moth is considered in Asia to be an extremely potent male sexual stimulant and tonic. It is very Yang. It is therefore recommended that a Yin tonic such as Healers Tea, Ant Essence, He Shou Wu Capsules or other Kidney Yin tonic be used when Male Silk Moth is being used. Male Silk Moth Extract may also be used with other Yang tonic formulations to increase their Yang activity.

For men, Male Silk Moth benefits sperm production and libido, and has a long reputation for making sexual intercourse more exciting and satisfying. It nurtures the entire endocrine system and can restore youthfulness.

For women, Male Silk Moth is believed to tonify the vagina and to make sexual intercourse more pleasurable. It nurtures the entire endocrine system and can restore youthfulness.

According to Chinese studies, Male Silk Moth has the function of invigorating the Kidney and benefiting Yang, resisting the fatigue, and preventing dementia of old people. Male Silk Moth may be used by men with prostate hyperplasia without negative effects.

American Ginseng is very effective at aiding the body in regulating blood sugar.
Traditional Function: Tonifies All Three Treasures.
Who Can Use It? Anyone.
Concentration: 8:1
Specifications: 2 fl oz.
Ingredients: Male Silk Moth
Other Ingredients: Water and Alcohol
Usage: 3-12 droppers per day or as directed by your health care practitioner
Remember Ron Teeguarden's "First Rule of Tonic Herbalism," summed up in a single word – Compliance. If you don't take the herbs, they won't work."