Longan Fruit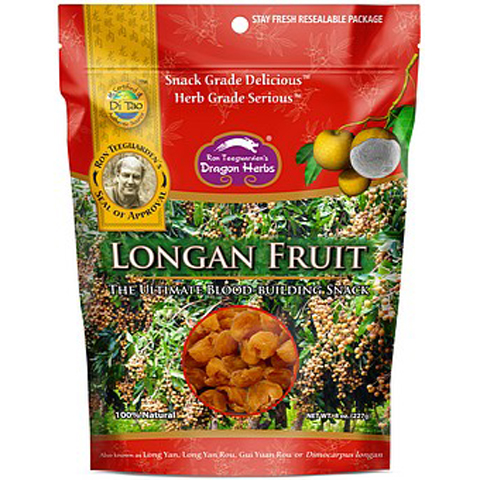 click to enlarge
Longan Fruit
Dragon Herbs
8oz. Bag
---

Longan Fruit - 8 oz.

Longan (Euphoria Longan) is a wonderful and delicious tonic fruit used by the Chinese as a blood tonic, to build energy (Qi), calm the mind, support the Spleen, support the Qi of the heart, and to add luster and beauty to the skin. Longan is very, very safe to consume and may be consumed daily as an eeTee™ beverage.
Its Chinese name is Long Yan Rou, which means Dragon Eye Meat. Of course, being a fruit, it is not really "meat." Generally, in America, it is most often referred to simply as Longan ("dragon eyes"). It is so named because when the fruit is fresh, the flesh of the peeled fruit is a translucent white color. The dark brown seed shows through the translucent flesh and looks like the pupil of an eye. As a result, the fruit looks like the bulging eyes of the dragons often depicted in Chinese art.
When dried, the dried fruit becomes a lovely golden color and has a unique flavor unlike any other dried fruit. It has a complex flavor that is simultaneously dried-fruit-sweet and somewhat savory, with a hint of smokiness. It is easy to fall in love with the unique flavor of Longan, and tens of millions of people have. The dried longans also have a very delectable mouth feel – somewhat firm at first bite, then they melt in your mouth. Yum!
It is believed among the Chinese people that Longan is a potent tonic herb that just luckily happens to be delicious. Most famously, Longan is thought to be a wonderful nutrient tonic for the skin. Women love to eat Longan, fresh, dried or as tea, to support their beauty from within.
Longan is not only great for the skin, but is also a sex tonic for women. For that reason, Longan is considered as a special tonic for women who wish to be both beautiful and sexual – it has a 2000-year reputation as a special love tonic, especially for women. Many of the most beautiful women in China eat Longan or drink Longan tea regularly.
Of course, Longan is not really just a woman's herb. Longan is equally beneficial to men. Men like to look good too, so an herb that benefits the skin is equally valuable to men. Longan has a calming effect and adds radiance to the eyes. It has no direct hormonal influence. It may be consumed by men as they please as an excellent Blood, Qi and Shen tonic. Longan is totally unisex.
Longan Fruit has a high content of iron, about 20 times that of grapes and 15 times that of spinach.
Longan provides mood support.
But Longan is no wimp! Just because it is relaxing does not mean that it does not increase vitality. It increases physical stamina and supports peripheral circulation. It improves energy status by building blood and is an excellent herb for athletes. It supports normal blood production. It may be consumed by athletes who need to maintain healthy blood levels. Some female athletes in particular benefit from Longan.
Dragon Herbs uses only the highest quality Longan from a Di Tao source in Fujian Province (Southern China).*
Specifications: 8 oz.
Ingredients: Longan Fruit
Usage: Feel free to eat a serving a day as a snack.
*These statements have not been evaluated by the FDA. This product is not intended to diagnose, treat, cure or prevent any disease.
Remember Ron Teeguarden's "First Rule of Tonic Herbalism," summed up in a single word – Compliance. If you don't take the herbs, they won't work."