Ningxia Red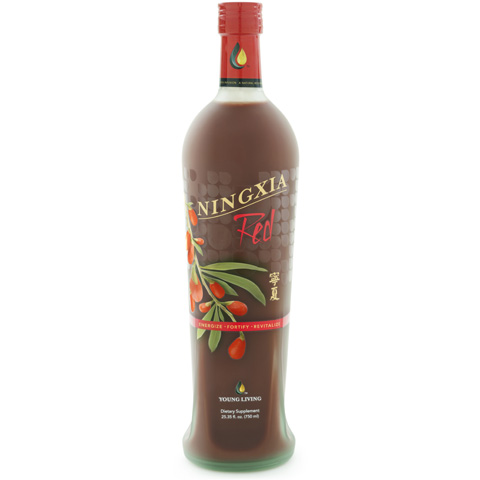 click to enlarge
Ningxia Red
Ningxia Red - 1 Liter
---
NingXia Red®

- 1 Liter

NingXia Red® is a naturally delicious, nutrient-infused wolfberry drink that will energize, fortify, and replenish your body. Rich in wide-spectrum antioxidant activity, NingXia Red has the highest levels of naturally occurring, age-defying S-ORAC activity to help support immune function, cardiovascular health, and nourish the eyes. NingXia Red also contains lemon and orange essential oils rich in the powerful antioxidant d-limonene to promote healthy liver function. Ningxia wolfberry, the primary ingredient in NingXia Red, has been cherished for centuries for its health, energy, and longevity benefits. Whole Ningxia wolfberries and other nutrient-dense fruit juices, like blueberry and pomegranate, make NingXia Red the perfect choice for optimizing wellness and stepping up to a whole new level of health.
The NingXia Red Promise

NingXia Red combines the finest Ningxia wolfberries, proprietary "Nutrient-Guard" preparation, and other all-natural, nutrient-dense ingredients to provide:

Dynamic energy and stamina without harmful stimulants (e.g., caffeine, green tea, etc.)
Key glyconutrients that fuel vital energy systems
Unique protein-polysaccharides that help sustain proper immune function
Highest levels of naturally occurring, age defying S-ORAC activity
Great taste with no sugary "junk-juices" (e.g., apple, white grape, pear, etc.)
Essential nutrients in NingXia Red also help support the following: Normal cardiovascular function, normal eye health, normal cell growth, and healthy liver function.
Nutritional Facts

Calories: 19 per serving
Total Carbohydrate: 4 grams per serving
Dietary Fiber: 0.2 grams per serving
Sugars: 3.4 grams per serving
Sodium: 15 mg per serving
Protein: 0.65 grams per serving
Vitamin C: 180 mg per serving
Approximately 34 servings per container