Skin Allergy Formula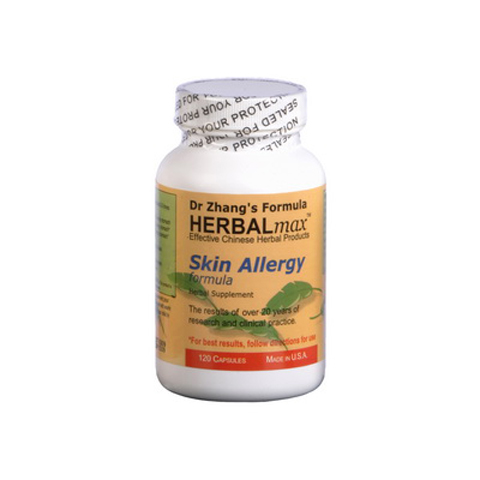 click to enlarge
Skin Allergy Formula
Herbalmax
60 capsules 500 mg each
---

Skin Allergy Formula
Rashes are an abnormal condition and reaction of the skin. A rash may result from allergy, infection, irritation, inflammation, insect bites and other abnormal conditions. There are many types of itchy skin allergies and rashes. The most common types of allergic skin rashes include atopic dermatitis (eczema), urticaria (hives) and angioedema (swelling).
Patients with atopic dermatitis often have non-skin allergies such as asthma or hay fever, but their rashes are not caused by skin allergies. On the other hand, those with contact dermatitis have true skin allergies, but usually not other allergic problems like someone with atopic dermatitis. Contact dermatitis occurs at all ages, whereas atopic dermatitis is most often seen in infants and children. Hand dermatitis is caused by skin irritants such as detergents or other chemicals.
A rash can indicate a mild condition such as fungal infection or contact dermatitis. It may also be the result of a moderate condition or disease, such as an allergy, chicken pox, hives or parasitic infection (scabies). A rash can also occur in some serious conditions, such as in meningitis or severe allergic reactions including anaphylaxis and allergic purpura. A rash can be the result of a wide variety of other conditions. These include methamphetamine abuse, stress, anxiety, and skin conditions, such as pityriasis rosea, acne, dermatitis and psoriasis. A rash can also be due to parasitic infections, such as public lice, head lice, and fungal infections, such as jock itch and athlete's foot. A rash can be due to infectious diseases, such as rubella, meningitis, Lyme disease and measles.
The length of a rash varies depending on the cause. A rash can be short-term and disappear quickly, such as when a rash occurs due to shaving or a waxing treatment to remove body hair. A rash can also occur in sudden episodes, such as a rash that happens when a person is exposed to an allergen that causes a rash or to certain plants, such as poison ivy. A rash can also occur over a relatively long period of time, such as when a rash is due to chicken pox or chronic eczema. If an allergy is suspected to be the cause of a rash, diagnostic testing may include skin patch testing and blood testing (radioallergosorbent test, RAST) to help identify the substances that are causing an allergy.
Most allergic drug rashes occur within 2-3 weeks of taking a new medication, especially if the person has taken the drug before. It is unlikely for medicine that has been prescribed for months or years to cause an allergic reaction. Because there is usually no specific test to prove whether a rash is allergic, doctors may recommend stopping a suspected drug to see what happens. If the rash remains after one week of stop taking the medication, allergy is unlikely.
Common Causes
The following are some of the possible causes of rash. Please ask your doctor about your specific symptoms.
Allergic conditions

Allergies
Hives
Eczema
Contact dermatitis
Food allergies
Egg allergy
Peanut allergy
Wheat allergy
Milk allergy
Soybean allergy
Fish allergy
Poison ivy
Latex allergy

Blisters
Hemorrhagic rash
Infections

Impetigo
Chicken pox
Measles
Fungal infections
Athlete's foot
Meningococcal disease

Parasitic conditions
Scabbing
Scaling
Systemic conditions
Treatment
Treatment for skin allergies and rashes are individualized depending on the underlying cause and other factors and generally involves minimizing the discomfort (itching) of a rash and the desire to scratch and decreases the risk of developing complications, such as a secondary bacterial infection. Some conditions can be easily and successfully treated and cured, while others may require more intensive treatment.

Treatment for a rash due to an allergy such as contact dermatitis or eczema includes lifestyle changes to avoid exposure to irritants and allergens and minimizing skin dryness. Typical skin irritants and allergens include soaps, chemicals, cleaning products, weeds, and some metals, such as nickel. Skin dryness can be avoided or treated by using a perfume-free moisturizer, avoiding scratchy clothes, and using a home humidifier. Other important steps include avoiding alcohol and caffeine, using mild soaps, not over washing or scrubbing skin, and avoiding hot tubs, steam baths, saunas and chlorinated swimming pools.

More severe rashes may be treated with a corticosteroid cream (hydrocortisone), which reduces inflammation, and an antihistamine, which reduces allergy. Parasitic infections, such as pubic lice, are treated with medications that contain a pesticide. Fungal infections, such as athlete's foot, are treated with medications that contain an anti-fungal medication. Antibiotics may be prescribed to treat a secondary bacterial infection caused by excessive scratching of the skin. Some alternative treatments, home remedies, and other complementary therapies have also been shown to be effective for skin allergies and rashes.
_____________________________________________
The Best Natural Remedy for Skin Allergies and Rashes
The HERBALmax Skin Allergy Formula is an all-natural herbal remedy designed by Dr. Zhang to quickly alleviate symptoms of skin allergies, rashes, and itching. It is also designed to relieve chronic skin problems such as eczema, contact dermatitis, hand dermatitis, and dry or chapped skin. Like all HERBALmax products, the Skin Allergy Formula is a 100% natural remedy, containing no artificial preservatives or synthetic fillers. All herbs are selected to the highest standards to ensure quality and safety.

In Dr. Zhang's clinical experience, the Skin Allergy Formula has been extremely effective in providing safe and long-term relief to intractable skin allergies and rashes without the side effects commonly associated with corticosteroids. For most patients, notable improvement can be seen in just a few days. The herbal powder can also be used topically for even quicker effects (see Directions for Use). The formula should be taken after food.
Directions For Use:
Adults and children age 13 and older: 2 capsules twice a day between or after meals with plenty of water.
Children ages 8-12: 1 capsule three times a day between or after meals with plenty of water.
Children ages 4-7: 1 capsule twice a day between or after meals with plenty of water.
Children ages 3-4: 1/2 capsule three times a day between or after meals with plenty of water.
*Children Under Age 6: open the capsules and pour the powder into a tablespoon. Mix the powder with warm water (add honey, if desired) and then have your child swallow.
For those who have a hard time swallowing liquids or capsules, and for children under age 3, open 1 or 2 capsules and pour the powder into a cup. Mix the powder with boiling water and stir until it dissolves. Let the liquid cool to lukewarm temperature and use it to gently wash the rash.

For those who have chronic skin conditions, the Skin Formula can be taken orally and topically at the same time to achieve quick results.

Active Ingredients: Astragalus Root, Ledebouriellae Root, Peppermint, Cnidium Fruit, Vitex Fruit, Tree Peony Root Bark, Rehmannia Root.
Disclaimer: HERBALmax products are dietary supplements. These statements have not been evaluated by the Food and Drug Administration. This product is not intended to diagnose, treat, cure, or prevent any disease.
_____________________________________________
About Dr. Zhang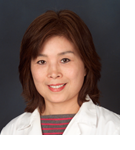 Dr. Lihua Zhang, PhD, OMD is an herbal pharmacologist and licensed acupuncturist in Los Angeles, California. She is an expert in Chinese medicine and has been in this field since 1978. In her earlier years as an herbal pharmacology researcher, Dr. Zhang was a faculty member at the Institute of Herbal Medicine at Heilongjiang University of Chinese Medicine - one of the premier Chinese medical universities in China. Dr. Zhang came to the Unite State in 1994. In 2006, Dr. Zhang was named The Best of the Best Doctor in Town by six local magazines (Beverly Hills, Pacific Palisades, Malibu, Brentwood, Bel Air, and Santa Monica magazine).

Dr. Zhang has authored and co-authored over 30 scientific articles as well as two books. Her comprehensive textbook, Complete Guide for Identifying and Characterizing Chinese Herbs, was named one of the best scientific books by the Chinese government when published in 1993. Dr. Zhang was also awarded First Prize for her research by the Chinese government in 1992. In 1994, Dr. Zhang arrived in the United States and received the Best Paper award from the 1st World Traditional Medicine Conference.

As one of the very few scholars of both herbal pharmacology and Chinese medicine, Dr. Zhang is able to bridge both disciplines, bringing advanced scientific knowledge of herbal products to the American public. Over the years, Dr. Zhang has successfully treated thousands of patients using these products in her clinical practice.
About HERBALmax Formulas

HERBALmax products were originally developed by Dr. Lihua Zhang to meet the myriad health needs of patients in her active clinical practice. After seeing the benefits derived by her many patients over the years, Dr. Zhang decided to make these products available to the general public. Drawing upon her dual expertise in both traditional Chinese medicine and the highly technical field of herbal pharmacology, Dr. Zhang has developed each HERBALmax product using only specially selected herbs from among tens of thousands of traditional Chinese herbs. The herbal ingredients in HERBALmax products have been subjected to wide ranging scientific study by medical scholars, and have been used for thousands of years by the Chinese people.

HERBALmax products are standardized concentrations of 100% natural Chinese herbs. HERBALmax products use no synthesized herbal extracts. Instead, Dr. Zhang insists on using herbal concentrates to retain the natural character of the herbs from which HERBALmax products are made. In addition, the products contain no artificial preservatives, sugar, starch or other fillers. HERBALmax products are made with the finest quality herbs and produced to the highest standards. HERBALmax formulas are non-habit forming with no toxic properties or harmful side effects.

All of the HERBALmax formulas have been used in Dr. Zhang's clinical practice over many years with proven positive results. These products have become very popular among doctors and other health care providers. Many doctors are using the HERBALmax line of products for patients who have allergic reactions or serious side effects to medication. Others use the products for patients who seek natural solutions to their health problems.

The Unique Features of HERBALmax Products Include:

Fast-acting. In Dr. Zhang's clinical practice, the effectiveness is typically seen within just 1-3 days.


Each HERBALmax product is designed using the principles of traditional Chinese medicine and modern science. The ingredients have been selected from thousands of Chinese herbs and formulated based upon scientific research and extensive clinical feedback. HERBALmax products are carefully created using only the highest quality herbs in the right amounts and proper formulations for optimal effectiveness and safety.


HERBALmax products contain no artificial preservatives, sugar, starch or other fillers. Dr. Zhang insists on using herbal concentrates, rather than extracts, to retain the natural character of the herbs and to avoid food or drug interactions. As part of Dr. Zhang's commitment to ensure quality and safety, each ingredient undergoes strict laboratory analysis before being used for manufacturing.


HERBALmax formulas are non-habit forming with no toxic properties or known harmful side effects.