Supercritical Neem Leaf Extract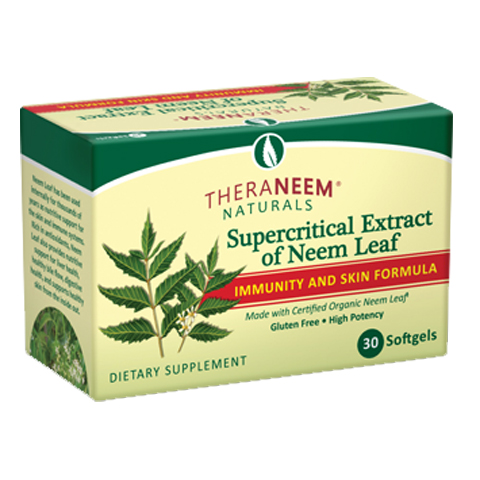 click to enlarge
Supercritical Neem Leaf Extract
TheraNeem
30 Softgels
---
TheraNeem® Supercritical Neem Leaf Extract

Neem has been used for thousands of years in Ayurvedic treatments, applications which have been validated in more than 100 studies in universities and research centers around the world.
Neem oil contains extraordinarily high levels of antioxidants, which help protect the skin from free radicals caused by over-exposure to sun, environmental toxins and other damaging elements.
Neem oil also contains high levels of fatty acids that soak in quickly to soothe and nourish even chronically dry and itchy skin.
Neem leaf, when taken internally, acts as a blood purifier and tonic, supports healthy skin, immune system response, healthy bowel function, and aids in the maintenance of glucose stability.
Dietary Supplement

Organix-South uses supercritical extraction to offer a highly-concentrated (50:1) extract of organic Neem leaf in a tiny, easy-to-swallow gelatin capsule. Supercritical extraction uses natural carbon dioxide to create a pure, powerful extract with no harmful solvent residue.
Directions:Use only as directed. Take one capsule with a full glass of water up to two times daily.
Ingredients: Organic Neem Leaf SCO2 Extract - 8 mg per capsule. Other Ingredients: Organic Sesame Oil, Soft Gelatin.
Organix-South's Neem Capsules CONTAIN NO corn, soy, salt, yeast, sugar, wheat, egg or dairy products and are formulated without the use of preservatives, artificial colors or flavors.

WARNING: Do not use if safety seal is broken or missing. Keep out of the reach of children. Keep your licensed health care practitioner informed when using this product. Do not use if you are pregnant, breastfeeding or if you are trying to conceive a child (men & women).
About Organix-South and our Mission
We are the world's leading manufacturer of certified-organic Neem products. Organix-South is a rapidly growing natural products division of Nutraceutical Corporation, located in rural central Florida supporting USA jobs. We are a young and idealistic group of individuals who believe that the details matter and that the journey is half the fun. We are committed to promoting organic, fairly traded and ethically wild-crafted herbal dietary supplements and protective body care products. Our mission is to create wholesome and natural products while taking care of the planet.
Mission Statement
Our mission is to offer a synergy of organic, therapeutic and cruelty free herbal products that are great for the whole family, your pets and the planet too!
Our Code of Ethics
We are fair, truthful and honest in relations with our customers, co-workers, suppliers and with the public.
We purchase raw materials that do not endanger the future sustainability of the crop, land or water systems.
We purchase raw materials based on the key issues of quality and sustainability. Price is not the most important consideration.
We are aware of, and compassionately responsive to, our changing world.
We are responsible, good citizens, and useful members of our communities.
We strive to constantly improve in our practices, policies and ethics. Our mission and code are dynamic.
We conduct our business in ways which give us pride in our work and in our products and services.
We work to earn the respect and esteem of all concerned.
We empower our employees to uphold our code of ethics.
We comply with the laws, and present full disclosure of all ingredients on our product labels.
We regard as imperative the financial success, stability and growth of our business in accordance with these principles.
Our Other Efforts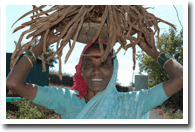 In 2008, Autumn sold Organix to Nutraceutical Corporation but still runs the day to day operations of the division. We are now a publically traded company supporting American jobs while building mutually beneficial partnerships with organic farmers and wild-crafters in India. We buy many of our herbs through a relationship we created with Nisarga Biotech (Nisarga means nature) in the organic Umbari Farm, located southeast of Mumbai in India. The farm itself has been certified organic through the internationally recognized ECOCERT® and we have committed to providing financial assistance to help nearby farmers convert to organic growing as well.
Umbari encompasses 10 acres of organic farm land surrounded by 20 acres of national forest areas that also have been certified organic for ethically wild-crafted herbs. We also purchase herbs from Vita Organic Farms which has access to over 300 acres of certified organic farms.
To ensure that our herbs are fairly traded and sustainably harvested, we pay 10% over market value for herbs harvested by the Umbari and Vita farms. We enrich the health of the earth by supporting organic agriculture, and we nourish the people who grow and collect our organic herbs.
At the same time, we third-party test all of our herbs for botanical identify, purity and strength to ensure that our customers receive therapeutic-grade herbal products that are cruelty-free and made for the whole family (pets too!).
More Detail