Magnolia Sinus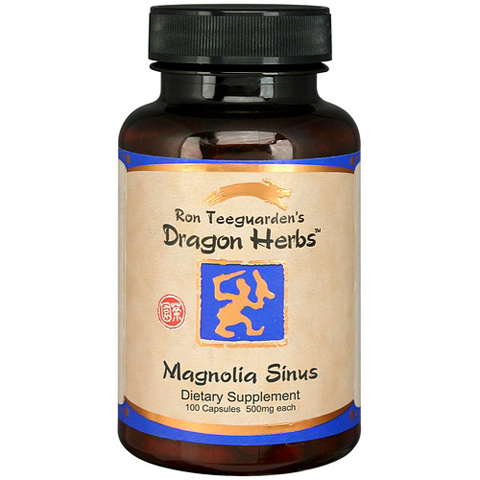 click to enlarge
Magnolia Sinus
Dragon Herbs
100 capsules 500 mg each
---
Magnolia Sinus

This is a time tested, extremely effective and perfectly safe formulation made to promote healthy nasal functioning. It helps clear the sinuses and regulate immune functions. Excellent for those with allergies and chronic nasal dysfunction. It does not contain Ephedra (Ma Huang or any other similar stimulant). Combine with Perilla Clear for even better results.
Traditional Function: Clear sinuses, eliminate phlegm.
Who Can Use It? Anyone with sinus congestion.
Concentration: 8:1
Specifications: 100 capusles, 500 mg each
Ingredients: Magnolia flower, Fragrant Angelica root, Chinese Cimicifuga rhizome, Chinese wild Ginger plant, Notopterygium root, Siler root, Akebia stem, Ligusticum chuanxiong rhizome, Chinese Licorice root, Green Tea leaf.
Other Ingredients: Vegetarian capsules (Pullulan caps 100% natural, water-soluble polysaccharide produced through a fermentation process; vegetable origin; non-GMO; no starch, preservative or chemical modifications; gluten free.), rice powder.
Usage: Take 3 capsules, 2 times per day or as directed by a healthcare professional.
Remember Ron Teeguarden's "First Rule of Tonic Herbalism," summed up in a single word – Compliance. If you don't take the herbs, they won't work."