Heart Formula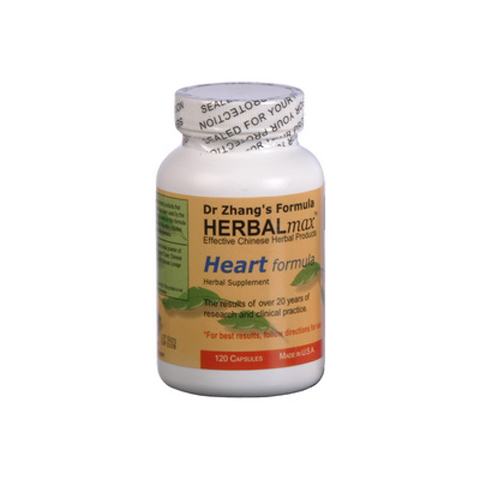 click to enlarge
Heart Formula
Herbalmax
120 capsules 500 mg each
---

Heart Formula
Heart disease is the #1 cause of death in the United States, greater than the next five causes, and stroke is the #3 cause of death. Heart disease and stroke are also major causes of long-term disability. According to the latest estimates by the American Heart Association, over 64 million Americans have one or more forms of cardiovascular disease.
Heart health problems include coronary heart disease, abnormal heart rhythm (arrhythmia), heart valve disease, as well as cardiomyopathy and aorta problems, such as aortic aneurysm, and aortic valve problems. The most common form of heart disease is coronary artery disease (CAD). In CAD, plaque builds up on the walls of the arteries that carry blood to the heart. Over time, this buildup causes the arteries to narrow and harden. This keeps the heart from getting all the blood it needs. Blood clots may develop. If the clot mostly or completely blocks blood flow to the heart, it causes a myocardial infarction (heart attack).
However, there are ways to significantly reduce the risk of developing heart diseases and reverse the effects of a current heart condition. Lower cholesterol, triglycerides, homocysteine and C-reactive protein (CRP) levels are a start to promoting healthy hearts.
Risk Factors for Heart Diseases
High LDL cholesterol can clog your arteries and lead to heart problems. Of note, only 20% of body's cholesterol comes from diet, while the remaining 80% is produced by the liver. Therefore, even if you follow a low cholesterol diet, you might still have high LDL, which is why you should check your cholesterol levels regularly.

Triglycerides, or blood lipids, are directly influenced by your diet, and are one of the major heart disease risk factors. Triglycerides thicken your blood, increasing the risk of clotting and blockage.

Homocysteine is an abnormal protein that can damage your arteries if not cleared out of your body properly. This risk results from a lack of B Vitamins (B6, B12, Folic Acid) in your diet. Most people get sufficient B Vitamins from food. However, vegetarians should beware of this condition.

C Reactive Protein (CRP) is a measure of inflammation in the blood. Studies have shown that CRP is a very good predictor of future heart problems, and may double your chances of having a stroke. Anti-inflammatories may be used to treat elevated CRP levels.
Reduce Risk of Heart Diseases
Follow a Heart Healthy Diet:
Limit intake of trans fats and hydrogenated oils found in margarine, fast food, fried food.
Limit refined sugar intake from cakes, cookies, candy.
Use virgin olive oil and garlic in cooking and add fish oil to your diet.
Exercise Regularly:
Exercise 3-4 times per week, for at least a half hour at a time.
Stretch before and after training.
Keep yourself hydrated and rest between sets.
Live a Healthy Lifestyle:
Stop smoking and limit alcohol consumption - cigarette smoking significantly increases your risk of coronary heart disease and heart attack.
Avoid stress and anxiety.
Keep your weight within recommended limits.
Keep the blood indicators in check. Make sure to get tested on the levels of cholesterol, triglycerides, homocysteine and CRP, and take actions if any one of these indicators is elevated.
Symptoms of Cardiovascular Diseases
The most common symptom of coronary artery disease is angina (chest pain). Angina can be described as a discomfort, heaviness, pressure, aching, burning, fullness, squeezing, or painful feeling due to coronary heart disease. It can often be mistaken for indigestion. Angina is usually felt in the chest, but may also be felt in the shoulders, arms, neck, throat, jaw, or back.
Symptoms Of An Acute Myocardial Infarction (Heart Attack):
Discomfort, pressure, heaviness, or pain in the chest, arm, or below the breastbone.
Discomfort radiating to the back, jaw, throat, or arm.
Fullness, indigestion, or heartburn feeling.
Sweating, nausea, vomiting, or dizziness.
Extreme weakness, anxiety, or shortness of breath.
Rapid or irregular heartbeats.
Symptoms Of A Stroke May Include:
Vision problems in one or both eyes, including double vision.
Dizziness, clumsiness and weakness.
Speech problems, including slurring.
Inability to walk, known as ataxia.
Sudden amnesia and/or loss of consciousness.
Recovery After A Heart Attack Or Surgery
Recovering from a heart attack or stroke can be a long process, requiring you to make significant lifestyle changes including how you eat, work, exercise, and take medicines, as well as visit your doctor on a regular basis.
A Recovery Program Often Includes Medications And Cardiac Rehabilitation.
Some Medications Commonly Used Include:
Aspirin - helps prevent blood clots.
Clopidogrel (Plavix), for people who have received a stent.
Beta blockers – can lower blood pressure and decreases your heart's oxygen demand.
Nitrates - dilate coronary blood vessels to bring more blood to the heart muscle and decrease blood pressure.
ACE inhibitors - also lower blood pressure and limit the damaging effects of the heart attack.
Statins - helps to lower cholesterol levels.
In addition, some natural supplements and herbal remedies have been shown to be effective in maintaining heart function and promoting recovery. A structured cardiac rehab program usually includes exercise, risk factors reduction and psychological treatment in dealing with stress, anxiety, and depression.
_____________________________________________
The Best Natural Alternative Supplement for Heart Health and Recovery
The unique HERBALmax Heart Formula is a 100% natural herbal remedy formulated by Dr. Zhang to help her patients with heart problems and recovery from heart attack, stroke, and surgeries. This remedy combines herbs with potent effects in promoting heart health and is designed to:
Reduce cholesterol and lipids from the coronary arteries.
Promote blood flow.
Improve microcirculation.
Promote heart muscle tissue repair and regeneration.
Promote antithrombotic function to help stroke patient recovery.
Over the years, the Heart Formula has provided significant benefits to Dr. Zhang's patients and is one of our best selling products. In Dr. Zhang's clinical experience, most patients start feeling notable improvment within 7-10 days. Like all HERBALmax products, the Heart Formula is a safe and non-addictive natural supplement. All herbs used in HERBALmax products are selected to the highest quality to ensure safety and effectiveness. This formula has no known side effects.

Designed For: Heart and stroke-related problems, including coronary artery blockage, heart valve problems, irregular heartbeat and heart palpitations. Helps to promote and recover a healthy heart.
Directions For Use:
Adults and Children over age 13: 3 capsules twice a day on an empty stomach or between meals.
Children ages 9-12: 2 capsules twice a day between meals.
For Children under age 8: please consult your doctor before taking.
Precautions: Do not take, if you are pregnant or think you may be pregnant.
Active Ingredients: Red Sage Root, Burred Tuber, Chinese Hawthorn Fruit, Ginseng, Rhizome of Sichuan Lovage.
Disclaimer: Heart problems are serious conditions; if symptoms persist, contact your physician. HERBALmax products are dietary supplements. These statements have not been evaluated by the Food and Drug Administration. This product is not intended to diagnose, treat, cure, or prevent any disease.
_____________________________________________
About Dr. Zhang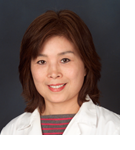 Dr. Lihua Zhang, PhD, OMD is an herbal pharmacologist and licensed acupuncturist in Los Angeles, California. She is an expert in Chinese medicine and has been in this field since 1978. In her earlier years as an herbal pharmacology researcher, Dr. Zhang was a faculty member at the Institute of Herbal Medicine at Heilongjiang University of Chinese Medicine - one of the premier Chinese medical universities in China. Dr. Zhang came to the Unite State in 1994. In 2006, Dr. Zhang was named The Best of the Best Doctor in Town by six local magazines (Beverly Hills, Pacific Palisades, Malibu, Brentwood, Bel Air, and Santa Monica magazine).

Dr. Zhang has authored and co-authored over 30 scientific articles as well as two books. Her comprehensive textbook, Complete Guide for Identifying and Characterizing Chinese Herbs, was named one of the best scientific books by the Chinese government when published in 1993. Dr. Zhang was also awarded First Prize for her research by the Chinese government in 1992. In 1994, Dr. Zhang arrived in the United States and received the Best Paper award from the 1st World Traditional Medicine Conference.

As one of the very few scholars of both herbal pharmacology and Chinese medicine, Dr. Zhang is able to bridge both disciplines, bringing advanced scientific knowledge of herbal products to the American public. Over the years, Dr. Zhang has successfully treated thousands of patients using these products in her clinical practice.
About HERBALmax Formulas

HERBALmax products were originally developed by Dr. Lihua Zhang to meet the myriad health needs of patients in her active clinical practice. After seeing the benefits derived by her many patients over the years, Dr. Zhang decided to make these products available to the general public. Drawing upon her dual expertise in both traditional Chinese medicine and the highly technical field of herbal pharmacology, Dr. Zhang has developed each HERBALmax product using only specially selected herbs from among tens of thousands of traditional Chinese herbs. The herbal ingredients in HERBALmax products have been subjected to wide ranging scientific study by medical scholars, and have been used for thousands of years by the Chinese people.

HERBALmax products are standardized concentrations of 100% natural Chinese herbs. HERBALmax products use no synthesized herbal extracts. Instead, Dr. Zhang insists on using herbal concentrates to retain the natural character of the herbs from which HERBALmax products are made. In addition, the products contain no artificial preservatives, sugar, starch or other fillers. HERBALmax products are made with the finest quality herbs and produced to the highest standards. HERBALmax formulas are non-habit forming with no toxic properties or harmful side effects.

All of the HERBALmax formulas have been used in Dr. Zhang's clinical practice over many years with proven positive results. These products have become very popular among doctors and other health care providers. Many doctors are using the HERBALmax line of products for patients who have allergic reactions or serious side effects to medication. Others use the products for patients who seek natural solutions to their health problems.

The Unique Features of HERBALmax Products Include:

Fast-acting. In Dr. Zhang's clinical practice, the effectiveness is typically seen within just 1-3 days.


Each HERBALmax product is designed using the principles of traditional Chinese medicine and modern science. The ingredients have been selected from thousands of Chinese herbs and formulated based upon scientific research and extensive clinical feedback. HERBALmax products are carefully created using only the highest quality herbs in the right amounts and proper formulations for optimal effectiveness and safety.


HERBALmax products contain no artificial preservatives, sugar, starch or other fillers. Dr. Zhang insists on using herbal concentrates, rather than extracts, to retain the natural character of the herbs and to avoid food or drug interactions. As part of Dr. Zhang's commitment to ensure quality and safety, each ingredient undergoes strict laboratory analysis before being used for manufacturing.


HERBALmax formulas are non-habit forming with no toxic properties or known harmful side effects.