FIR Pad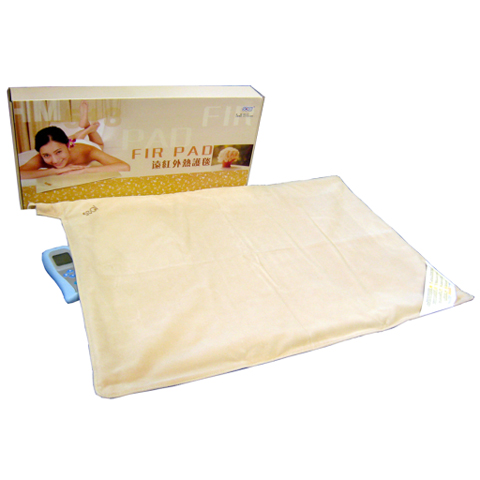 click to enlarge
---
FIR PAD
"Far Infrared Technology"
The FIR PAD generates high temperatures rapidly through heating with high-tech highdensity galvanothermy carbon wire. The highest temperature reaches 131°F. It rapidly dredges superficial venules, activates cells and comforts the body.

The FIR PAD is very efficient in physiotherapy. The key ingredient to the FIR pad is its utilization of Far Infrared technology which has been scientifically proven to expand capillaries which can assist in increased blood flow and circulation.

The FIR PAD is suitable for those suffering from all types of physical aches and pains. The FIR PAD is ideal for temporary relief of pain caused by poor posture in the office, athletes suffering from sports injuries and laborers. Soft and flexible, the FIR PAD conforms to any part of the body and is easy to use!
Research for Far Infrared TherapResearch for Far Infrared Therapy
In one study done by Hideyoshi Toyokawa and others in Japan, using rats, published in the Experimental Biology and Medicine, showed that the FIR can improve wound healing significantly.
Otto Warburg was nominated for the Nobel Prize in 1944 for research concerning photosynthesis in connection with the chemotherapeutics of cancer and the use of x-rays. His subsequent research showed that Far Infrared (the heat radiation of the Sun) impacts cancer.
Dr. Masao Nakamura, of the O & P Medical Clinic in Japan, has reported great success with the use of Far Infrared treatment for whiplash, rheumatism, insomnia, menopause, sciatica, acne, shoulder stiffness, arthritis, ear diseases…
Dr. Toshiko Yamazaki, MD, owner of a Far Infrared therapy clinic in Japan and author of "The Science of Far Infrared Ray Therapy", has extensively researched the uses of Far Infrared Therapy for natural body healing. In her book, she explains that one of the reasons Far Infrared Therapy has beneficial results in a variety of illnesses is the ability of Far Infrared waves to remove toxins with mercury detoxification, which is often at the core of many health problems.
Dr. Toshiko Yamazaki, notes the following health improvements with Far Infrared technology:
• Asthma, Bronchitis (cleared up)
• Rheumatoid Arthritis (7 out of 10 cases resolved in one clinical trial)
• Cancer pain (greatly relieved)
• Cirrhosis of the Liver (reversed)
• Crone's disease (cleared)
• Cold hands and feet (20-25% improvement maintained)
• Cystitis (gone)
• Duodenal ulcers (eliminated)
• Gastritis (relieved)
• Hemorrhoids (reduced)
• Hepatitis (gone)
• High Blood pressure (reduced)
• Keloids (significantly softened and in some cases completely gone)
• Leg ulcers (healed)
• Radiation sickness (relieved signs and symptoms)
• Teenage skin problems (cleared)
• Tinnitus (chronic case cleared in 10 treatments)
• Eczema and Psoriasis (responded well)
• Pain relief
---