Turmeric Supreme: Extra Strength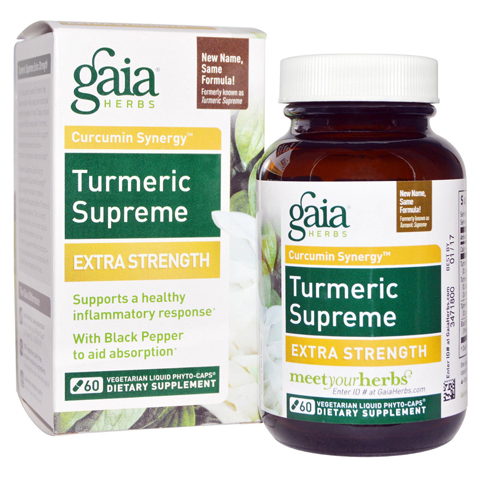 click to enlarge
Turmeric Supreme: Extra Strength
Gaia Herbs
60 Liquid Phyto-Caps
---

Tumeric Supreme: Extra Strength

Turmeric Supreme represents full Curcumin Synergy™. Our unique formulation creates a powerful whole plant profile of Turmeric's valuable properties.* Turmeric Supreme provides more curcumin per capsule than other members of our new Curcumin Synergy™ family of products- it may be taken alone or combined with one of these targeted formulas.
About "Daily Wellness"
Longevity and vitality come naturally when your body is in a state of harmony. Gaia Herbs' DailyWellness products promote optimal wellness by giving you the daily support you need.
Featured Herbs: Tumeric Root, Black Pepper Fruit.
Suggested Use:
Take 1 capsules 1-2 times daily between meals.
Note: Not to be used during pregnancy or lactation. If you have a medical condition or take pharmaceutical drugs please consult with your doctor before using this product. Keep away from children. Use only as directed on label. Safety sealed for your protection. Keep bottle capped at all times and store in a cool dry place. Natural separation may occur. This does not affect product quality.