Essential Seven - Dutch Chocolate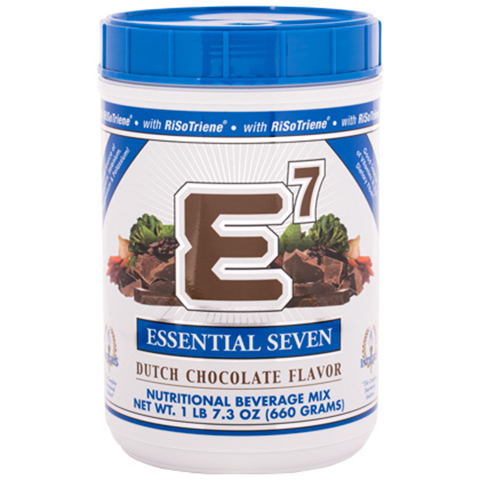 click to enlarge
Essential Seven - Dutch Chocolate
Integris Global
1.45 lbs Powder
---
Essential Seven - Dutch Chocolate

"Discover the Nutrients Your Body Lacks"
Discover the nutrients your body lacks! E7® Nutritional Beverage is a "functional food" that provides seven nutrient groups that are insufficient in the average diet: enzymes, vitamins, trace minerals, protein, essential oils, fiber, and probiotics.
Until now numerous foods or products were required to even come close to the hundreds of natural components contained in E7™. Through bioceutical innovation, Integris has brought together seven nutrient groups into one product yielding an unparalleled super food contained certain to have a favorable impact on those who incorporate it in their daily diet.* Dutch Chocolate Flavor.
As evidence continues to mount that isolated nutrients fall short of meeting our nutritional needs, it has become more apparent that whole foods containing combinations of nutrients working synergistically in their natural state are far more effective. E7™ is a "functional food" that provides seven nutrient groups that are insufficient in the average diet.*
Enzymes — Necessary for proper digestion and utilization of food.*
Vitamins (Coenzymes) — Organic vitamins necessary for enzymes to function.*
Trace Minerals ( Cofactors) — Ionic minerals and trace minerals necessary for enzymes to function.*
Protein — Absorbable protein provides the building blocks for the body.*
Essential Oils — Necessary for healthy cell membranes, creation of hormones and proper detoxification.*
Fiber — Helps eliminate toxins.*
Probiotics — Support the immune system and help provide protection from pathogens.*
Ingredients: Vitamin A, Vitamin C, Calcium, Iron, Vitamin D, Vitamin E, Thiamine, Riboflavin, Niacin, Vitamin B6, Folic Acid, Vitamin B12, Pantothenic Acid, Magnesium, Selenium, RiSoTriene® (stabilized rice bran), whey protein hydrolysate, red raspberry natural flavor, Raftinline Hp®, Flash Glanced™ vegetable blend (spinach powder, kale powder, parsley powder, polyphenol blend 95%, broccoli powder, Brussel sprouts powder, beet powder, cabbage powder, carrot powder, garlic powder, tomato powder, quercitin, wild blueberry extract powder), KonaGold™ (sea minerals), calcium citrate, psyllium powder, magnesium glycated, broccoli selenium, L. Salivarius, eleuthero root, n-zimes™ (invertase, amylase, lactase, protease 4.5, cellulase), sucralose, Vitamin D3.

No Substitute For Experience
According to the Center for Disease Control over 100 million Americans suffer from at least one symptom of disease each year. The research indicated that the strong majority of these symptoms were preventable.
Integris develops products that not only support vibrant health, but also help the body fight the three main causes of death, disease and discomfort. These main causes are: a deficiency of nutrients, toxicities and the inability to control blood sugar. Our approach is simple. We combine solid nutritional research with the highest quality ingredients to create a product that addresses one or more of these causes for poor health.
Since 1996, our ongoing commitment to "making a real difference with real nutrition" has resulted in hundreds of thousands of satisfied customers. Our flagship product, E7™, is so natural it's labeled as a food. We call it a functional food, because in one simple scoop, it delivers an incredible amount of nutrition that the body readily accepts and utilizes. E7™ was actually created by combining several of our products into one great tasting shake. If you had to choose one source for your nutritional needs, whether male or female, young or old, E7™ is that source.
Our corporate team partners with only the very best nutritional manufacturers following GMP (Good Manufacturing Practice) standards thus ensuring our customers of safe and high products.
More Detail