100% Organic Flax Hull Lignans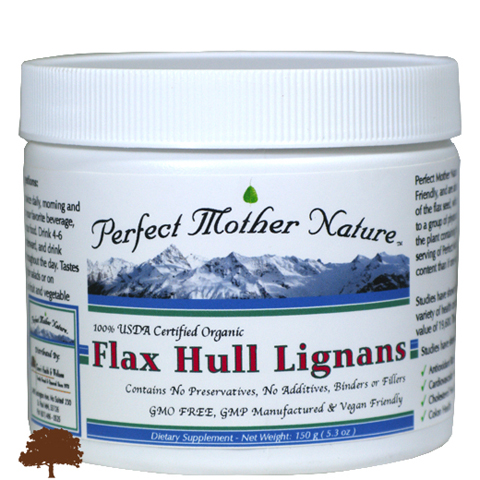 click to enlarge
100% Organic Flax Hull Lignans
Perfect Mother Nature
5.3 oz
---
Perfect Mother Nature™ 100% Organic Flax Hull Lignans

Perfect Mother Nature Flax Hull Lignans are 100% USDA Organic, GMP Certified, Vegan Friendly, and are absolutely GMO-FREE. Our Flax Hull Lignans consist entirely of the hull of the flax seed, which is where the SDG Lignans are located. These lignans belong to a group of phytonutrients found in seeds and grains, and flax seed is known for being the plant containing these lignans in highest concentration. The result here is that each serving of Perfect Mother Nature Flax Hull Lignans contains more bioavailable lignan content than if one were to consume 70 grams of whole flax seed!
May Be Useful For Those Who Suffer From:

Flax Hull Lignans Are Highly Antioxidant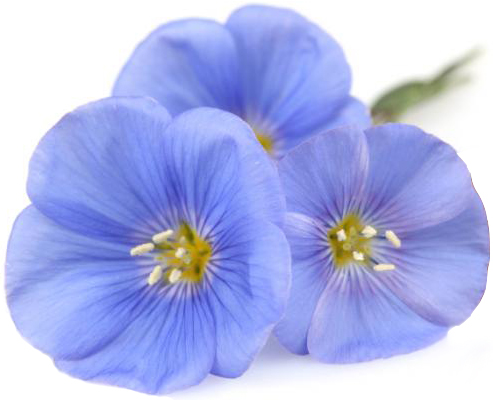 Studies have shown that these SDG Lignans have been an effective food supplement for a variety of health concerns. Highly antioxidant, Flax Hull Lignans possess an an ORAC value of 19,600. This is more than 8 times the antioxidant value of Blueberries, and not to mention an excellent source of dietary fiber!

Additionally studies have shown these SDG lignans to be effective in a variety of health complications. Much extensive study has been done on the effects of flax lignans, and they have proven to be a helpful food supplement on certain diseases such as prostate cancer, skin cancer, melanoma, diabetes, lupus and others. Being Phytoestrogens, SDG lignans have also been reported to be effective in balancing hormone related problems in women. These have included breast tenderness, sweating, vaginal dryness, bloating, hot flashes and uneven menstrual cycles as well as PMS symptoms.
The Wonderful Flaxseed
Flax has been cultivated for at least 7,000 years, making it one of the first domesticated crops. The health and medicinal value of flaxseed has also been long known. However, the reasons why flaxseed is so helpful in promoting health has only in recent times been made known.

Flax is an oilseed that belongs to the genus Linum. Its varieties are of two types: one is grown for oil and the other for fibre production. In most countries, flaxseed is also called "linseed". Flax Hull Lignans contains fat (38% - Omega 3, 6, 9), Fibre (28%), Protein (19.5%), Carbohydrate (6.5% - sugars, lignans, phenolic acids, hemicellulose), Ash (4%), Minerals (1.8% - calcium, iron, phosphorus, magnesium, potassium, sodium, copper, zinc, manganese, selenium), Vitamins (0.32% - A, B1, B2, C, E, Niacin), Lecithin (0.15%), Flavonoids (0.1%), Phytic acid (o.1%).
Preparation And Use Of Perfect Mother Nature™ Flax Hull Lignan Powder
Take 1 scoop of Flax Perfect Mother Nature™ Flax Hull Lignans 2 times daily, morning and evening. Take directly, or mix in water, cereal, juice, oatmeal, yogurt, blended drinks, or mix with any foods of your choosing. Drink 4-6 ounces of water afterward and drink plenty of water throughout the day.
Source Of Essential Fatty Acids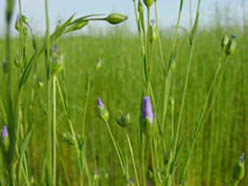 While most of the attention surrounding Flax Hull Lignans has been about it as a source of essential fatty acids, recent studies and research have revealed that the substance called "lignans" within flaxseed has very important and useful medicinal qualities too. The health benefits of lignans surpass those of flaxseed oil.

Lignans are a group of phytonutrients (plant chemicals) found in seeds and grains. Flaxseed has by far the richest source of phytonutrients . It yields an extraordinary 800 mcg/g. The flaxseed oil has less than 2% of lignans. The lignan found in flaxseed is called secoisolariciresinol glucoside (SDG). The lignan in flaxseed is a type of carbohydrate and classed as a phenolic compound or polyphenol.
Flaxseed Lignan Is A Natural Food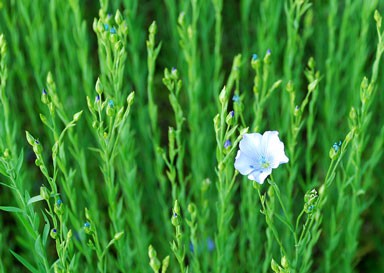 Flaxseed lignan is a natural food supplement extracted from a whole food just like rice bran, lecithin or beta-carotene. It is a safe and natural means to prevent or combat a host of health issues. Studies involving consumption of 50 gm of flaxseed a day or high doses of 99% pure SDG extracts posed no health problems in both animal or humans.

Another test was conducted to determine the influence of consuming 50 gm of flaxseed a day or 4 weeks in young healthy adults. This would be equivalent to 1 gm or SDG per day. Plasma LDL cholesterol was reduced by up to 8%, and total urinary lignan excretion was increased more than five fold. Antioxidant vitamins were not significantly affected. Bowel movement per week increased by up to 30%. This study revealed no adverse effects from high consumption of flaxseed. Other studies done to determine if flax lignan SDG or its mammalian lignans possessed any genotoxic potential (causing chromosome abnormalities). The conclusion, as indicated earlier, was that the lignans were devoid of any genotoxic potential.

Source of article: Flaxseed Lignan - The Power of SDG in Promoting Health By: Charles A. Weisman and Dr. Dan Junker.
Study Shows Relationship between Lignians and Uterine Fibroids Findings suggest a modest inverse association between lignan excretion and risk of uterine fibroids.
LOCARNO, SWITZERLAND & EASTON, PA – October 20, 2006

A new study published in the American Journal of Clinical Nutrition (2006; v84, 587-93), has demonstrated a possible relationship between lignans and risk of uterine fibroids. According to the study authors, uterine fibroids are hormonally responsive. Growth of fibroids is initiated by estradiol and progesterone, and fibroids shrink through gonadotrophin-releasing hormone agonists. The researchers analyzed 170 uterine fibroid cases and 173 controls for isoflavonoids (i.e. genistein, daidzein, equol) and lignans (enterolactone and enterodiol). Researchers collected two overnight urine samples (48 hours apart). Logistic regression was used to determine associations between excretion and the risk of uterine fibroids. The findings suggest a modest inverse association between lignan excretion and uterine fibroid risk. When considering two human lignans measured, this association was most notable for enterolactone. No association was found
between isoflavone excretion and uterine fibroids, yet the researchers noted that soy intake was low in this study population.

"This study is good news for lignans and their potential for supporting women's health," said Robin Ward, Vice President of Marketing, Linnea Inc. "Specifically, 7-hydroxymatairesinol, found in most potent and economically viable concentrations in Norway spruce, has been shown to directly raise enterolactone levels. Although these new data on uterine fibroids are preliminary in nature, it may be sensible to consider that 7-hydroxymatairesinol a useful dietary supplement for women who are concerned about uterine fibroids."
First Report Ever Found In 1980
The first report of lignan in flaxseed was not until 1956 and it was not until 1980 before researchers reported that the level of lignans in the body of patients with breast cancer were lower than tumour free patients. It was also noted that vegetarians had higher concentrations of lignan substances than was in non-vegetarians.

There are two general types of lignans - those found in plants and those found in animals and humans or mammalian lignans. When plant lignan SDG from flaxseed is ingested, it is converted in the colon by friendly bacteria to mammalian lignans - enterodial (ED) and enterolactone (EL). Thus flaxseed lignan SDG is a precursor to mammalian lignans ED and EL.

Lignans have numerous biological properties that make them unique and very useful in promoting health and combating various diseases. These amazing lignan compounds have shown such extraordinary potential that the National Cancer Institute (US) has studied them for their cancer preventative properties. SDG lignan not only has anti-cancer properties, it is also anti-viral, anti-bacteria and anti-fungal. It is also a powerful antioxidant as well as an immune system enhancer.
Nutritional Information: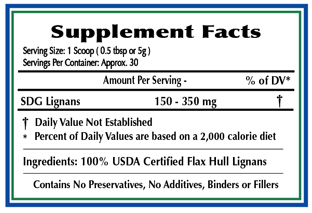 More Detail