Formula II Iosol Iodine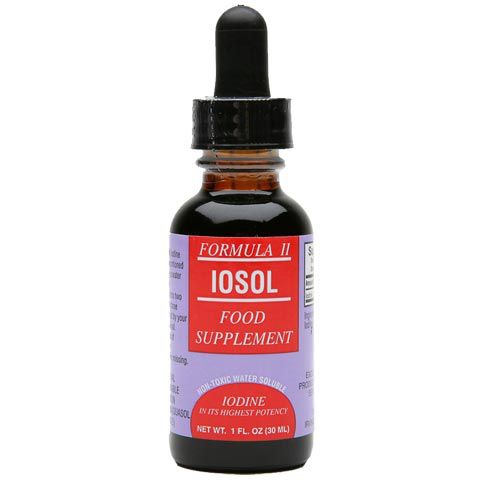 click to enlarge
Formula II Iosol Iodine
TPCS
30 mL
---
Formula II Iosol Iodine

Help Maintain Healthy Thyroid Gland Function
Description
Food Supplement
For Dietary Purposes Only
Non-Toxic Water Soluble
Iodine in its Highest Potency
Essential trace mineral
Highest potency available without prescription
Formerly known as Ioaquasol (Iodine-Aqua-Soluble)
Fromula II Iosol is a high potency nontoxic water-soluble iodine and iodide. Iosol is made and combined with a vegetarian grade glycerine. Iosol has been used as a dietary supplement since 1947. Each One Ounce Bottle contains approximately 620 drops, 1.83 mg per drop. Directions for use are stated on the bottle to provide the minimum daily requirement which is 150 mcg (One drop mixed into a two ounce glass of water). Or use as directed by your health professional if you require a higher dose.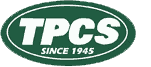 TPCS is the manufacturer of unique, quality natural healthcare products and vitamins since 1945. Founder Dr. John C Thie, M.D., D.C., N.D. formulated products for the purpose of increasing the body's ability to restore and rejuvenate itself. The TPCS products have continued to do just that over the years and throughout the world. TPCS is a family owned company who primarily supplies products to health professionals.

Essential trace minerals such as iodine use to have a natural ecosystem supply route to replenish soils of the earth. Iodine came from the ocean. The wind carried iodine over the earth. When it rained trace minerals were deposited and absorbed into the soil. The amount of iodine in the diet varied depending upon the amount of iodine present in the soil in which plants grow or which animal's grazed. Even back as far as the 1930's iodine carried by the wind was depleted when it arrived to the middle of the United States. This region became known as the Goiter Belt. This epidemic forced the U.S. Government to promote iodine as an essential nutrient to be added primarily to salt to combat the terrible disease known as goiter.

John C Thie, Sr., D.C., M.D., N.D. , had pointed out that the use of iodized salt has limitations. He believed that we are given false assurance that adequate iodine is supplied. He also noted that iodides are not well tolerated by everyone. By using too much potassium or sodium iodide, it is possible to produce toxic reactions such as heart palpitations, skin rashes and stomach disturbance. And excess potassium or sodium iodide can even depress the thyroid, as well as upset the body's electrical balance.

Iosol originally was named Ioaquasol. Io was for iodine, aqua for water, and sol for solubility. This formula has been in constant use since the early 1940's. Today more nutrition-oriented health care doctors, pharmacies and health-food stores use this formula as a dietary thyroid support. Iosol is often used successfully when other herbs, dulse, kelp and sodium/potassium iodides don't work. Iosol is a high potency iodine and can be used with impunity. Iosol is used in clinics as a dietary food supplement to raise the metabolism and support the thyroid. Iosol is nontoxic and water-soluble. Unlike a sodium or potassium iodide Iosol becomes a free iodine which is much easier to absorb and assimilate. The free iodine is the essential trace element which will help raise your metabolism and restore the electrical balance of the body.

Iodine is an essential trace mineral necessary to make hormones which help maintain certain functions of regulating your metabolism.

Iodine is also known to help prevent or counteract radio iodine poisoning in the event of nuclear fallout.

Note: Under no circumstances should you ingest antiseptic or topical iodine. Iodine food supplements are widely available.



What The Doctors Have To Say


" IOSOL has been the best iodine source that we have found on the market."
Dr. Ken Nilsson, D.C. - Orange, CA

"Your products have always worked and the quality has stayed the same!!"
Dr. Donna Yerman - Los Angeles, CA

"Consistent quality"
Dr. Michael Marks D.P.M., - Elmira, NY

"Quick service"
Dr. Kurt L. Ehling - Morton, IL

"I have strongly recommend my father's products for supporting the body's ability to restore itself."
Dr. John F. Thie, D.C. World wide known chiropractor and author of Touch for Health

"TPCS' products are very effective."
Philip B. DeMond, D.C. - Omega Chiropractic Care, Newark, DE

Maintaining Balanced Thyroid Function

When you take a close look at the health problems that have started to skyrocket in this country, an underproducing thyroid gland shows up as a common denominator in a surprising number of them.

There are three primary reasons for the growing number of people with an unbalanced thyroid:

1) Selenium deficiency
2) Iodine deficiency, and
3) Estrogen-like compound pollution.

If your thyroid gland function needs support, the following methods may prove useful for improving your thyroid health.

Eat Selenium-rich Foods

Because selenium deficiency is a major factor in low thyroid function,one should regularly include selenium-rich foods in the diet. The thyroid produces several hormones, and must produce them in a somewhat balanced ratio. Without selenium, this balancing process is hindered.

Good sources of selenium in your diet, include: wheat germ, seafood and shellfish, beef liver and kidney, eggs, sunflower and sesame seeds, brazil nuts, mushrooms, garlic, onions, and kelp.

Why Supplement With Iodine?

The most effective way to maintain thyroid gland function is to supply it with the proper iodine levels necessary for an increase in hormone production. Iodine is essential for the thyroid gland's production of the hormone thyroxin, which the thyroid uses to regulate numerous functions—most importantly metabolism.

Avoid Iodine-Blocking Foods

Certain foods have a tendency to lower thyroid function and need to be avoided by people with underactive thyroids: Soy (including tofu and soymilk), and raw forms of the following vegetables: turnips, mustard greens, broccoli, cabbage, rutabaga, brussels sprouts, bok choy, cress, cauliflower, kale, and kohlrabi. Cooking these vegetables deactivates the iodine-blocking agent.

Unfortunately cooking or heating Soy does not deactivate the iodine-blocking agent present.

Supplement With Zinc and Multi-Nutrients

A common mineral that improves thyroid health in middle-aged to elderly men and women is zinc. Adequate levels are required for proper thyroid hormone metabolism. As we age, both thyroid problems and zinc deficiencies become more common.

Recommended dosages generally range from 30 — 50 mg of zinc (elemental) per day. Keep in mind that it may take months for oral zinc supplementation to affect a chronic thyroid problem.

Finally, a good multi-nutrient will include proper levels of important trace elements, such as selenium (200 mcg daily) and zinc (20 mg daily).

Reduce Your Exposure to Estrogen-like Compounds

Xenoestrogens make their way into the body through respiration, ingestion of contaminated food, and skin contact. Once in the body, they block thyroid hormone production and contribute to low thyroid function.

I recommend that you use organic cleansers, organic pesticides and other household products. And make the switch once and for all to distilled water.

More Detail