Noni Lotion (Icy Heat)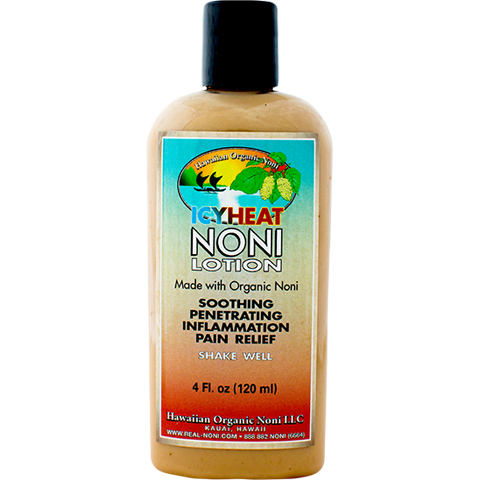 click to enlarge
Noni Lotion (Icy Heat)
Hawaiian Health Ohana
---
IcyHeat Lavender Noni Lotion
Brought To You By Hawaiian Health Ohana

The next evolution of our lotions has led us to our brand new product, IcyHeat Lavender Noni Lotion. There have already been remarkable results with its use on sprains, cramps, muscle aches, joint movement, ligament repair, and it is great for pain relief. It is already in use by High School, College, Semi-Pro, and Professional Athletic teams. If used before athletic workouts, it prevents muscle fatigue and cramps. Contains about 92% Noni Fruit Leather, 7% pure Menthol and Camphor and 1% of the finest organic Lavender and grapefruit seed extract in a water base. Not for use on the face or sensitive skin areas, as it can sting.

From the magic island of Kauai comes this potent curative aid, made from the organic fruit of the Noni tree. Many uses for Noni have been known to Polynesian cultures for thousands of years, and it was a principle medicine for their far-voyaging Canoe people, spreading Noni throughout the Pacific.

Only recently encountered by the rest of the world, Noni has already been traditionally employed for many internal and external uses.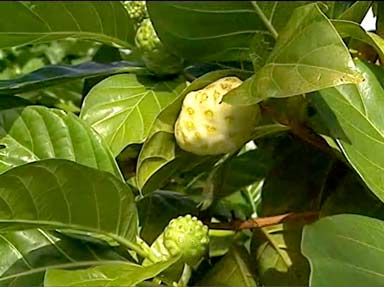 HAWAIIAN HEALTH OHANA LAVENDER NONI LOTION UTILIZES 92.2% NONI FRUIT LEATHER

In order to preserve the healing qualities, we have created ICYHEAT LAVENDER NONI LOTION, made from the pulp of organically grown fruit and processed at very low temperatures. Our ICYHEAT LAVENDER NONI LOTION is composed of 99.2% NONI FRUIT LEATHER in a preserved form prepared for the external uses of Noni.

ICYHEAT LAVENDER NONI LOTION may be used as a local antiseptic and anesthetic by covering the affected area with the product, applied as either a patch of well-moistened leather or as the lotion allowed drying in place. ICYHEAT LAVENDER NONI LOTION may be used as a plaster, or cream to promote healthy skin. ICYHEAT LAVENDER NONI LOTION makes an ideal addition to first-aid kits for home, car, purse, pocket or pack, and need no refrigeration.

Advantages Of Noni Fruit Leather
Noni Fruit Leather has the ability to transform into many forms, making Noni Fruit Leather an ideal first aid kit; it can be used both internally and externally on many problems, often with immediate relief. Many therapeutic products are limited by their forms to one area of use only. Noni Fruit Leather can be used as a paste, cream, lotion, rinse or eyewash, with the addition of varying quantities of water, and can be chewed as, swallowed pill-size, or, with the addition of water and blending, drank for internal ailments.
There is no need to refrigerate Noni Fruit Leather
There is no need to encapsulate powders, which usually require adulterants for processing, in order to take in a pill-like form.
There are no inedible, dangerous or questionable ingredients in Noni Fruit Leather. All of our Noni is organically grown on the remote island of Kauai, Hawaii.
There are no glass or plastic bottles required; the convenient form makes it possible to carry Noni Fruit Leather in pocket, purse, or pack.
There is no need of pasteurization, and very low temperatures are used in processing so the maximum enzyme activity is preserved.
Noni Fruit Leather makes a long-lasting antiseptic and antibiotic bandage without any other adhesive or covering, in most applications.
It is easy and painless to remove Noni Fruit Leather from external applications, using only warm water.
Unlike almost all other Noni products, Noni Fruit Leather is not allowed to ferment, enabling a better taste and odor.
Noni Fruit Leather is completely biodegradable, including the cellophane package.
There is no need for the bulk and weight of shipping water, which represents over 80% of the expense in shipping liquid forms
Morinda Citrifolia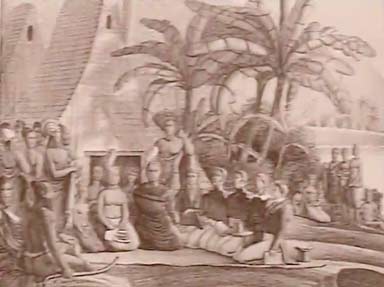 Noni, Morinda citrifolia , is in the family Rubiaceae, which includes such notables as Coffee, Gardenia, and Cinchona, the quinine tree. It is one of perhaps 80 species in the genus Morinda, spread worldwide through the tropics. Many of these species have origins in the area that includes Borneo, New Guinea, Northern Australia, and New Caledonia: it is out of this population that Morinda citrifolia is thought to have evolved and spread.

Plants have several ways to travel between land masses separated by large amounts of ocean. Before the intervention of humans these were mainly by water, either floating on the ocean currents or by hitchhiking on something else like a log. The other way would be by air, whereby a hurricane, a bird, or a bat could've carried it along to its next home. Noni is a very salt-tolerant tree that thrives in wet or dry conditions. There is a membrane enclosing a gel-like substance around each seed enabling flotation, and the seed coating, being very hard and watertight, can delay sprouting for many months. The flower is self-pollinating, so only one seed needs to sprout for a successful population to possibly emerge. These are positive traits for sea or air dispersion and colonization in any harsh conditions, from salt flats to lava flows.

The Polynesian People are perhaps the principal method of spreading Noni throughout its known range, now from Africa to India and Southern China all through the South Pacific to Central and South America. They were some of the finest sailors from the beginnings of time, with ingenious craft that rivaled the speediest of today, and they explored and settled all through the Pacific and related oceans, even as far as to be the closest genetic relatives of the Eskimos. The Polynesians carried with them essential plants to sustain them in unknown situations; Noni was one of these, chosen for its medicinal value and perhaps its use as a famine food as well; they certainly brought it as far as Hawaii, where it coexists with a native species, Morinda trimera, in lowland forests.

Noni is eaten and used as medicine by the Australian Aborigines, a people who have lived in the same place for perhaps 40,000 years. Morinda is mentioned in the chants of the Rig-Veda from ancient India, one of the first writings ever, transcribed from oral traditions and thought to be as old as 14,000 years.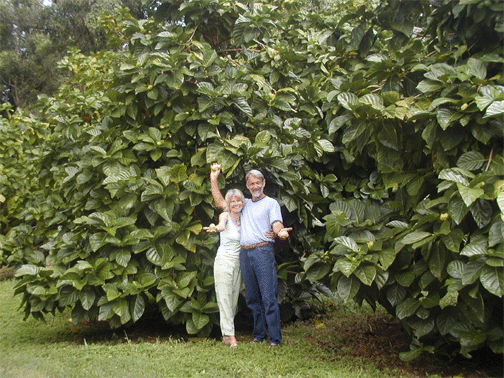 Feedback

We are now beginning to collect feedback to share the many ways of using our products and the different conditions that have been found to benefit.

Gastro-Intestinal Lesions, Sore Muscles, Irritated Stomach - 6/25/05:

Gentlemen, I love your product. I have been using Noni for 6 months now, but like the Noni Leather the best. A friend advised Noni juice from Tahiti about 6 months ago. I had been using Noni-Juice Plus and Noni Pacific, both from Tahiti, but I found Noni leather to be significantly better. I use the lotion too on sore muscles. My entire life I have had stomach problems and have taken many prescription medicines, but none have worked as well as Noni. Noni gives me immediate and lasting relief. I bought the Noni-Pacific at Whole Foods and orderes the Noni-Juice Plus from the Internet. Both products, although aided my lesioned/acidic stomach, thay also both constipated me. While visiting Hawaii, I purchased the Noni leather and found it also aided my bad stomach immediately, and didn't have any negative side effects, as the other two had. Also, Noni juice is difficult to travel with, as it must be refrigerated. Noni leather can be taken anywhere and stored easily. I have found this to be the best Noni product that I have used and will continue to use Noni leather and lotion.

Thank you for making such a great product, Susie Petrizzio, Los Angeles, California

HEALED SKIN SPOT ON FACE - 9/7/05:

I bought a bottle of your Lavender Noni Lotion in June at the Health and Wellness Fair in Honolulu. After using the lotion on my face twice daily for 2 1/2 weeks, I noticed that the red spot (broken capillary) on my cheek was disappearing (I had the spot 'zapped' away by a dermatologist in '04, but it returned a few weeks later.) I've been using your lotion for 3 months now. The red spot has diminished in size and redness by more than 50%. The texture of my skin is also smoother. I am very pleased!

In gratitude, C. Kissinger, Princeville, Hawaii


Pain And Skin Problems From The Vietnam War:

Dear Sir / Madam! During my recent Vacation on your beautyful Island of Oahu I purchased your Lavender Noni Lotion. This was at a Plantation during a bus tour. I am a Viet Nam Veteran (Australian Army) and suffering since 1971 from some sort of tropical skin problems. Using the above-mentioned lotion seems to be the answer to my long suffering. However I could not find your product in any of the stores here. Could you please advise if you got any distributer in Australia?

Peter Hartung / Wooonga / Australia.

(second letter)

I hope this letter find you well and I am happy to say that I am in reasonable shape. Without any warning, nine (9) ulcers developed on my left leg and in the past this would mean months of pain. Living on Painkillers, sleeping tablets and daily 3 to 4 times changing of bandages ending with hospitalization. This time the treatment (once a day) with your lotion fixed this within two weeks. This is for most people hard to understand because they have seen me since Vietnam mostly lame.

Friendly greetings, Pete

OSTEOARTHRITIS - Oct. 21, 2005:

Aloha, Just a note to tell you my suggest story about using (your) NONI LOTION with Lavender. I have OsteroArthritis in my ankles and knees, but have NO pain or swelling, because of NONI LOTION. And, have no need to take any aspirin type products. In September, I went on a hiking holiday in Italy; hiking the beautiful cliffs of the Cinque Terre Coast. I faithfully put NONI LOTION on my ankles and knees in the morning and before going to bed. I don't hesitate to tell anyone with pain of my suggest story using NONI LOTION.

Thank you, Sincerely, Barbara Wilcox

ECZEMA - DATE: 11/16/05 3:58 AM

Hi: I bought some of your noni lotion and gave it to my mother in England - she had a terrible case of eczema on her legs and nothing would stop the itching - she had tried all sorts of treatments, meds, alternative - nothing worked.
However, since she has been using the lotion, my sister tells me that she has never seen her legs look so clear.... so thanks for a great product!
So, now I need to send some of the the lotion to England - can you mail it there directly? - I would want Air Mail as she desperately needs a new bottle - otherwise I will have you send it to me in the California, and I will forward it on to her.

Thanks,

Laurel Stanford


HEALED CUTS & ABRASIONS - August 30, 2005:

Gentlemen, Was mugged recently, the assailant pushed me so hard, my face scraped the pavement. Forehead, black eye and cheek – nose, chin! Thanks to "Noni" my face healed rapidly, I was amazed of the cure, cause I never heard of Noni. Would love to buy some to help others who might need it. Many thanks for your help.

Yours truly,

Mrs. Rudolph Munsen, Long Beach, California


CHRONIC STOMACH LESIONS DATE: 12/2/05 9:19 PM:

I visited your island at the end of October and bought some Noni. I had stomach lesions and the doctors treated me four times and couldn't get rid of it. I took Noni fruit leather for six weeks and retested. I am bacteria free. Thank You for such a wonderful product! Thirty years I have fought stomach lesions.

Thanks,

Sandra Freeman

ARTHRITIC KNEES & BACK DATE: 1/13/06 1:52 PM

We recently enjoyed a vacation in Hawaii and while there, purchased a bottle of Lavender Noni Lotion. My husband has arthritic knees and back, and has found that your lotion gives the best topical pain relief of any product

Thanks very much. Linda Creed


FOOT PAIN, TWISTED KNEE, WRINKLES, PET PUPPY'S STOMACH Wednesday, January 25, 2006 8:15 PM

Remember when I didn't know what Noni was? Well I do now and I LOVE the stuff. Tell Steve I used it on a knee I twisted or something. I walked like Captain Ahab all day. I put Noni on when I got home from work, before bed and in the morning and my knee was all better the next day! Amazing stuff. I don't get how it works but it works. I'm using it on my feet which hurt ALL the time, my face, hands. It's great. I gave some fruit leather to my pretty puppy, Jacoby for her upset tummy....all better! She likes it too! Yes, you may share my message if you wish. I love this stuff! I've been putting on a mole under my eye that everyone thinks is a mascara smudge to see if it gets lighter. In the meantime the wrinkles under my eyes sure have gotten lighter! Did I mention this one?...I had something going on in my foot. It feels like a knot or something. It makes walking difficult and causes a callous. I've had this thing for 2 years (no health insurance so I don't consult Dr's for stuff like this.) After a week or so of putting Noni on the top and bottom of my foot every morning the pain is gone, the knot diminished and I can walk again!

Anyway, all the best. Happy growing! -Noreen


HIP FLEXOR PROBLEMS, ENDURANCE - DATE: 3/2/06 10:40 PM

FROM: Allen Jue SUBJECT: lavender noni lotion
Hi Steve, We met at the Expo before the GAR (Great Aloha Run), I told you that I had a hip flexor problem and you gave me some of the Lavender Noni lotion to rub on it, I believed you and your product, therefore, I purchased a 8 oz. bottle. I applied it for 2 days and the pain went away. I did the GAR (8.1 miles) under 90 minutes and in my age group (70 to 74) I finished 14 of 107 and 4281 out of over 18,000 entries. Miracle lotion is an appropos name for Lavender Noni Lotion!

Aloha, Allen Jue

LOWERING BLOOD PRESSURE - DATE: 5/24/06 2:23 PM

I have been very pleased with the noni fruit leather. It has been quite effective in lowering my blood pressure over the last three months. This has been in contrast to no reaction from other formulations of Noni, which I have tried. Clearly your product is different and superior in quality -

Chuck, Palo Alto, California


PAINFUL AND SWOLLEN FEET - DATE: 4/1/08 6:17 AM

Dear Sirs: I visited the Kauai Coffee Company in Kauai recently and I bought a small bottle of your Icy Heat Lavender Noni Lotion. I suffer from peripheral neuropathy of the feet due to diabetes. I get burning pain from my toes at night. I have used special lotions specifically indicated for diabetic foot pain and they worked fairly well. I tried the Icy Heat Lavender Noni Lotion and was surprised of the effectiveness of the product. It decreased the pain more effectively than any of the other products that I have tried in the past. I just ordered by internet 3 large bottles of the lotion and will use it regularly. I am a Doctor of Pharmacy, and as a practicing professional I am always interested in products that will benefit patients and decrease the suffering from diabetic foot pain.

"JFG, PharmD", Orange County, CA

ECZEMA and PSORIASIS - DATE: 5/10/08 5:56 AM

To Whom It May Concern,

My name is M.L. and I have suffered from terrible psoriasis and egczema on my hands (and body) for years. It gets so bad that the skin on my hands cracks constantly creating open wounds. I have tried all kinds of lotions and sprays over the years only to find that sunshine and salt water work best (but that is not easily attainable year round in New York). My father recently went on a cruise to Hawaii and found your Lavender Noni Lotion. He is always looking for ways to help my psoriasis so he bought me a small bottle to try. I used your product for about 2 weeks and it was simply amazing! It goes on easy and does not sting or hurt my open wounds. It creates a 'liquid bandage' of sorts on my wounds and promotes healthy non-psoriatic skin cell growth. It is non-greasy and easily transportable - I simply love it! So much so that I have ordered 6 of your 8 oz. bottles for $100 so I can try some long term treatment with your lotion.
I felt compelled to write you this testimonial because I think your product is great. Very few people understand the pain and suffereing my psoriasis causes but your lotion brings immediate relief and promotes healthy skin growth. Even better is the fact that your product is completely organic - a breath of fresh air in this world of chemicals and synthetics that we currently live in.

Thank you for creating this product and keep up the good work. You have found a new customer for life.........M.L.
Hawaii Organic Farmers Association
HOFA Policy Statement on Genetic Engineering in Agriculture
The Hawaii Organic Farmers Association believes that the life of the land and a sustainable economy will both improve without the implementation of genetic engineering, provided that, more research and education are put forth for organic, ecologically sustainable land care practices. Therefore, we generally oppose the use of genetic engineering in agriculture. Our specific directives on the use of genetically modified organisms are as follows:

Impose a moratorium on the release of genetically modified organisms (GMO) into the environment until a regulatory regime has been adopted that includes extensive evaluation of environmental consequences and secondary ecological effects, as well as pre-market safety testing of genetically modified foods and ingredients.
Liability for any external costs to individuals and the environment caused by physical spillover effects, such as genetic contamination from pollen drift, must be borne by the manufacturers and distributors of genetically engineered products.
In conjunction with the establishment of an adequate regulatory regime such that the release of some GMOs for use in non-organic agriculture is justified, the resulting products, byproducts, and derivatives of genetic engineering must be explicitly labeled as such at every stage of manufacturing, production, and sale to provide adequate information to growers and consumers. The costs of such labeling and verification must completely be borne by the manufacturers of genetically engineered products.

U.S. certified organic products as overseen by the National Organic Program rules must remain GMO-free and the products of genetic engineering should continue to be excluded from organic production and handling systems.


More Detail