Certified Organic Spirulina Tablets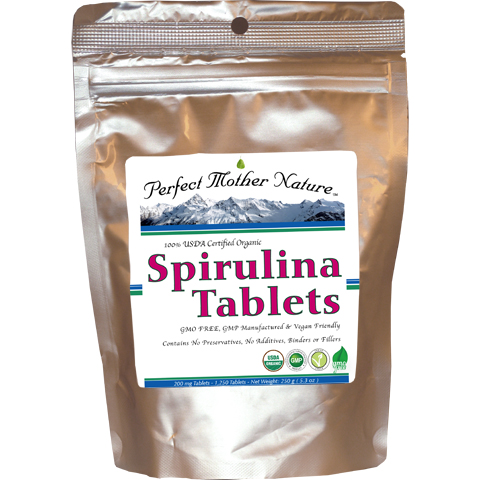 click to enlarge
Certified Organic Spirulina Tablets
Perfect Mother Nature
1,250 - 200 mg Tablets
---

Perfect Mother Nature - Certified Organic Spirulina Tablets


Perfect Mother Nature Spirulina Tablets are USDA Certified Organic, GMO-Free, Vegan Friendly, and are cultivated and manufactured in a Certified GMP (Clean) Facility in Taiwan. This ensures a higher grade, unadulterated, and absolutely clean end-product that is 100% Spirulina, and has none of the additives or fillers that have become more commonplace with other manufacturers in recent years.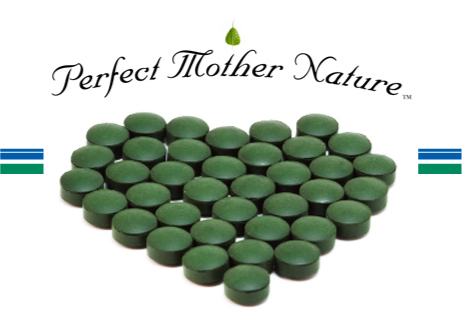 What is Spirulina?
Spirulina is a nutritionally dense blue-green algae that is rich in protein, vitamins, essential fatty acids, phytonutrients and minerals. It contains such a wide and impressive array of foundational nutrients that it has joined the higher ranks of what we now call the Dietary Superfoods. Spirulina contains nutrients such as B Complex Vitamins, Beta-Carotene, Zinc, Copper, Iron, and Selenium. It also contains Phytonutrients such as Carotenoid Antioxidants which are helpful for joint health, and protect the body from cellular damage. Spirulina also contains Phycocyanin, a potent and natural anti-inflammatory substance that has be shown to protect the liver and promote healthy immune function. That being said, the addition of spirulina to ones dietary supplementation is a must for anyone who is concerned with obtaining the fullest nutrition possible, for managing pH levels in the body, and for anyone who wishes to promote an active lifestyle in general.
May Be Useful For Those Who Suffer From:

Why is Perfect Mother Nature Spirulina Sourced From Taiwan?

The larger percentage of Spirulina Products sold in the United States are cultivated and manufactured from Hawaiian Sources. The process that is employed in cultivating these Spirulina Products utilizes up to 15% deep ocean sea water and is added into the growing tanks, whereas the space remaining is filled with fresh water. From this point the Spirulina Algae will grow within these tanks until maturity then harvested.
In light of the 2011 Fukushima Nuclear Disaster, the general public's concerns were raised considerably with regard to the possibility of trace amounts of radiation being found in food products. To date, those concerns have been widely addressed already, and the various government and media sources have deemed many food products from Japan and other Pacific Regions to be safe for human consumption.

Even so, our philosophy at Perfect Mother Nature is that our products should always be sourced from environments that have a clean record for environmental pollution, and more pointedly in this case, also be completely out of the line of any potentially affected areas as it were. So as a result, we at Perfect Mother Nature have proactively chosen to source our Spirulina from Taiwan, and our Spirulina Tablets are cultivated and manufactured at a Certified GMP (Clean) Facility, and is a GMO-Free, Vegan Friendly, USDA Certified Organic Product.
The Science On Spirulina
Consuming Spirulina Daily Significantly Improves Allergy Symptoms
In a typical randomized double-blind clinical study, allergic rhinitis sufferers were given either a placebo or a daily dose of either 1000 mg or 2000 mg spirulina for twelve weeks. There was no improvement for the participants taking the placebo. There was also no notable improvement for participants taking 1000 mg spirulina daily. However, the allergy sufferers who took 2000 mg spirulina every day saw significant improvement in their allergy symptoms. [1]
Beneficial Effects For Diabetes and High Cholesterol
Twenty-five subjects with Type-2 Diabetes were randomly assigned to either receive Spirulina as the study group, or to receive placebo as the control group. Supplementation for the study group was given 2000 mg of Spirulina for two months. The study group showed improved long-term glucose regulation, with a significant reduction in cholesterol. [2]
Candida Yeast Infections and Immune Response
Increased immune response in controlling candida albicans infection was noted in mice who were fed a combination of spirulina polysaccharide, spirulina cartenoids, and spirulina phycocyanin. The study concluded that the consumption of spirulina has great potential in human immune response against microbial infections.[3]
Spirulina Fights Fatigue and Helps Burn Fat
A double-blind study examined the effect of spirulina supplementation on exercise performance, substrate metabolism, and blood oxidation reduction both at rest and after exercise. The results showed a significant increase in exercise performance with a 10.9% increase in fat oxidation. [4]
Beneficial Effects for Immunodeficiency
The consumption of spirulina has been noted to possess bio-regulatory, and immuno-regulatory actions upon the body through increasing the activity of scavenger cells, stimulating the production of antibodies, and through activating and mobilizing T and B cells. [3][5]
Benefit to Liver Disorders
The consumption of Spirulina has shown some capability to inhibit carcinogenesis due to its very hight anti-oxidant properties. These have been shown to protect tissue and also reduce liver toxicity. [5][6]
Benefit in Prevention of Memory Dysfunction
The findings to a study on the prevention of memory dysfunction found that the amyloid β-protein deposition, which is associated with the onset of various forms of memory dysfunction, were significantly reduced. Through increasing catalase, the enzyme instrumental in protecting the cell from oxidative damage, the study concluded that spirulina may be very helpful in preventing loss of memory. [7]
Benefits for Wound Healing
Medical Researchers found that a water extraction of spirulina showed the highest wound healing activity and might be strongly considered as a potential therapeutic source agent for chronic wounds and their associated complications. [8]
Directions For Use:
Maintenance Dosage: 6 to 10 Tablets with or between meals.
Protein Substitute: 20 to 30 Tablets with or between meals
More Detail