Mood & Fatigue Formula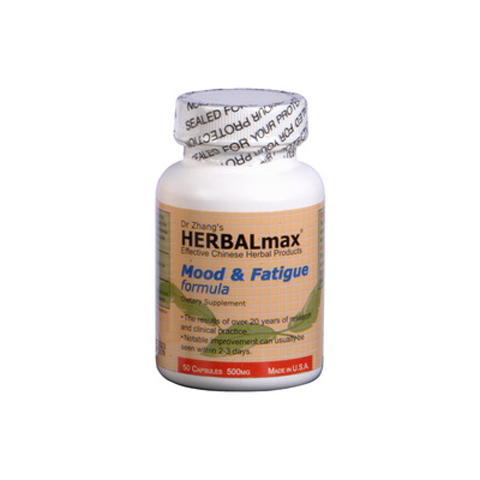 click to enlarge
Mood & Fatigue Formula
Herbalmax
60 capsules 500 mg each
---

Mood & Fatigue Formula
Mood swings are extreme or rapid changes in mood. About 20% of the U.S. population reports at least one depressive symptom in a given month, and 12% report two or more in a year. Mood swings are sometimes caused by hormonal changes that can temporarily disturb brain chemistry. Other causes of mood swings are associated with mood disorders such as bipolar disorder (manic depression) or hyperactive/inattentive such as attention deficit hyperactivity disorder (ADHD).
Research indicates that women experience mood swings twice as often as men. Most women experience mood swings as a result of pregnancy or post-partum. Mood swings are closely related to post partum depression.
Treating mood swings has an 80%-90% success rate for those who seek help; however, many people will not discuss mood swings with their doctors. As a result, over 60% of individuals who suffer from this potentially debilitating disorder remain untreated.
Common Causes
While it is difficult to pinpoint one specific cause of mood swings, researchers have proposed several options, including chemical imbalances and hormonal changes.
Chemical Imbalance
Most modern research indicates that mood disorder may be caused by a chemical imbalance in the brain. The experience of feelings such as happiness, stress, fear, depression or anxiety, occur when the brain releases chemicals called neurotransmitters. It is the release and re-absorption of these neurotransmitters that affect how a person feels. People who experience mood swings might have an imbalance of the neurotransmitters serotonin, norepenephrine, GABA and dopamine. There are medicines and therapy techniques available that are designed to help establish a balance of the release, reuptake and absorption of these key neurotransmitters.
Hormonal Changes
Some women experience hormonal mood swings during or after pregnancy or with their menstrual cycles. Teenagers often experience mood swings after the introduction of sex hormones during puberty. Often, the mood swings are alleviated once the hormone levels have returned to normal.
Treatment
Talking to Your Doctor about Mood Swings
Communicating with your doctor is an important part in the diagnosis and treatment of mood swings. By talking to your doctor openly, you allow him or her to provide you with the best mood swings treatment program possible.

Non-prescriptive Alternative Remedies
There are many non-prescription alternatives on the market today. Some of these remedies contain supplemental vitamins and minerals, while others contain herbal alternatives that have been used to naturally medicate mood swings. Clinical evidence suggests that some herbal constituents can provide significant benefit in helping to relieve negative mood and other symptoms related to anxiety and depression.

Behavioral Therapy
Behavioral therapy helps you weaken the connections between troublesome situations and your habitual reactions to them. Reactions common to mood swings such as fear, anxiety, depression, anger, and self-damaging behavior can be controlled. Behavioral therapy teaches you how to calm your mind and body, so you can feel better, think more clearly, and make better decisions.

Literary Therapy
Literary therapy incorporates books, articles, and other research materials into the process of healing. By gathering information about mood swings, one can acquire in-depth knowledge about his or her problems. This knowledge provides the essential tools for controlling and resolving ones issues. There is an extensive amount of information available from a wide range of perspectives. Many books can be checked out from a local library, and most internet information is presented free of charge.

Talk Therapy
Talk therapy involves the idea of healing through communication. Talking to friends, family members, or a therapist can help one to find support for those dealing with mood swings. Communication comes naturally to humans, and the simple act of discussing one's problems can be extremely helpful in the healing process.
_____________________________________________
The Best Natural Mood Stabilizer for Sadness, Anger, Worrying, and Fatigue
According to Chinese medicine, emotional disorders such as excessive anger, mood swings, worrying and rumination, as well as depression are caused by a blockage of vital energy, which creates a chemical imbalance in the brain. The HERBALmax Mood & Fatigue Formula is designed to quickly promote vital energy flow and calm mood swings. The Mood & Fatigue Formula is created by Dr. Zhang as a natural herbal mood stabilizer to help her patients with bipolar disorder, mood swings, excessive anger, depression, PMS and chronic fatigue.

As one of our best sellers, the Mood & Fatigue Formula has shown exceptional effectiveness in relieving mood swings, agitation, anger outbursts, sadness, hyper feelings and fatigue in Dr. Zhang's clinical practice. Most patients start feeling better in just a few days to a week, with the effectiveness gradually increasing over the next 1-2 weeks. Like all of our products, the Mood & Fatigue Formula is a safe, non-addictive natural herbal remedy containing 100% herbs selected to the highest standards.
Designed For: Excessive anger, mood swings, worrying and rumination, as well as depression, fatigue, nervousness, PMS, low sexual energy, and restlessness.
Directions For Use:
Adults and children age 13 and older: 3 capsules every morning. Add 2 capsule in the afternoon if needed.

Children ages 9-12: 2 capsules every morning. Add 1 capsule in the afternoon if needed.
Active Ingredients: Mandarin Orange, Chinese Angelica Root, White Peony Root, Wild Turmeric Root, Ginseng, Tuber Ophiopogonis Japonici.
Disclaimer: Severe depression can be a dangerous condition; if symptoms persist, contact your physician. HERBALmax products are dietary supplements. These statements have not been evaluated by the Food and Drug Administration. This product is not intended to diagnose, treat, cure, or prevent any disease.
_____________________________________________
About Dr. Zhang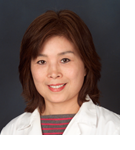 Dr. Lihua Zhang, PhD, OMD is an herbal pharmacologist and licensed acupuncturist in Los Angeles, California. She is an expert in Chinese medicine and has been in this field since 1978. In her earlier years as an herbal pharmacology researcher, Dr. Zhang was a faculty member at the Institute of Herbal Medicine at Heilongjiang University of Chinese Medicine - one of the premier Chinese medical universities in China. Dr. Zhang came to the Unite State in 1994. In 2006, Dr. Zhang was named The Best of the Best Doctor in Town by six local magazines (Beverly Hills, Pacific Palisades, Malibu, Brentwood, Bel Air, and Santa Monica magazine).

Dr. Zhang has authored and co-authored over 30 scientific articles as well as two books. Her comprehensive textbook, Complete Guide for Identifying and Characterizing Chinese Herbs, was named one of the best scientific books by the Chinese government when published in 1993. Dr. Zhang was also awarded First Prize for her research by the Chinese government in 1992. In 1994, Dr. Zhang arrived in the United States and received the Best Paper award from the 1st World Traditional Medicine Conference.

As one of the very few scholars of both herbal pharmacology and Chinese medicine, Dr. Zhang is able to bridge both disciplines, bringing advanced scientific knowledge of herbal products to the American public. Over the years, Dr. Zhang has successfully treated thousands of patients using these products in her clinical practice.
About HERBALmax Formulas

HERBALmax products were originally developed by Dr. Lihua Zhang to meet the myriad health needs of patients in her active clinical practice. After seeing the benefits derived by her many patients over the years, Dr. Zhang decided to make these products available to the general public. Drawing upon her dual expertise in both traditional Chinese medicine and the highly technical field of herbal pharmacology, Dr. Zhang has developed each HERBALmax product using only specially selected herbs from among tens of thousands of traditional Chinese herbs. The herbal ingredients in HERBALmax products have been subjected to wide ranging scientific study by medical scholars, and have been used for thousands of years by the Chinese people.

HERBALmax products are standardized concentrations of 100% natural Chinese herbs. HERBALmax products use no synthesized herbal extracts. Instead, Dr. Zhang insists on using herbal concentrates to retain the natural character of the herbs from which HERBALmax products are made. In addition, the products contain no artificial preservatives, sugar, starch or other fillers. HERBALmax products are made with the finest quality herbs and produced to the highest standards. HERBALmax formulas are non-habit forming with no toxic properties or harmful side effects.

All of the HERBALmax formulas have been used in Dr. Zhang's clinical practice over many years with proven positive results. These products have become very popular among doctors and other health care providers. Many doctors are using the HERBALmax line of products for patients who have allergic reactions or serious side effects to medication. Others use the products for patients who seek natural solutions to their health problems.

The Unique Features of HERBALmax Products Include:

Fast-acting. In Dr. Zhang's clinical practice, the effectiveness is typically seen within just 1-3 days.


Each HERBALmax product is designed using the principles of traditional Chinese medicine and modern science. The ingredients have been selected from thousands of Chinese herbs and formulated based upon scientific research and extensive clinical feedback. HERBALmax products are carefully created using only the highest quality herbs in the right amounts and proper formulations for optimal effectiveness and safety.


HERBALmax products contain no artificial preservatives, sugar, starch or other fillers. Dr. Zhang insists on using herbal concentrates, rather than extracts, to retain the natural character of the herbs and to avoid food or drug interactions. As part of Dr. Zhang's commitment to ensure quality and safety, each ingredient undergoes strict laboratory analysis before being used for manufacturing.


HERBALmax formulas are non-habit forming with no toxic properties or known harmful side effects.